My Mozzarella Stuffed Meatballs with Pappardelle are tender meatballs stuffed with oozy mozzarella, served in a rich tomato sauce with pappardelle. Loved by kids and adults alike!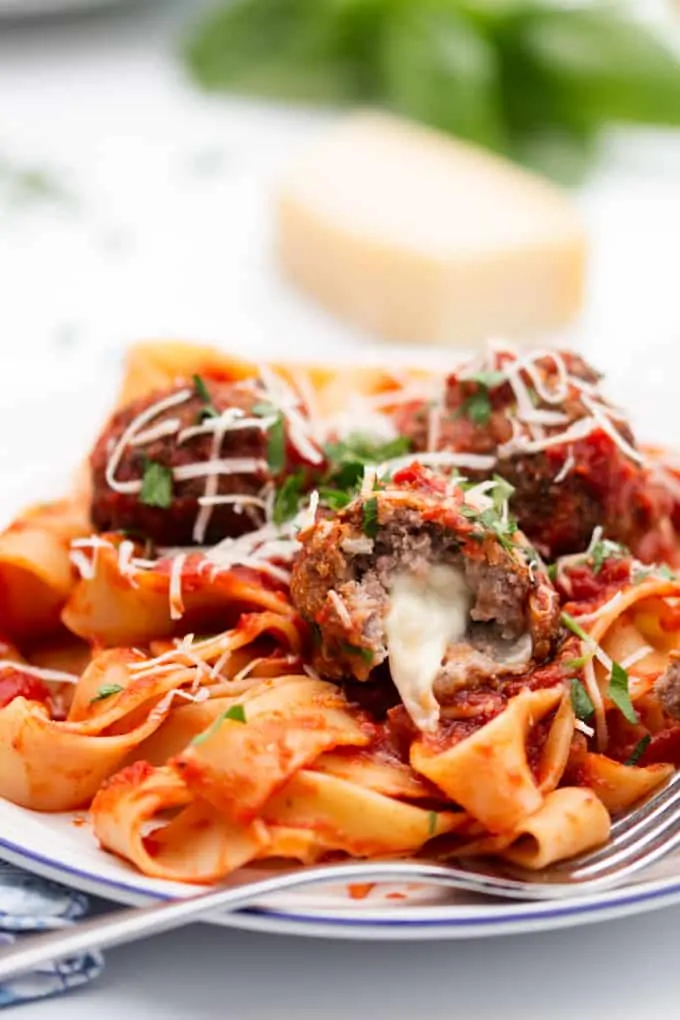 Any day with meatballs is a happy day. Lovingly rolled, flavour-packed meatballs, baked in the oven until browned and sizzling and served with a rich tomato sauce, piled on top of mountains of tender pappardelle. Everyone around the table chattering and slurping away, oblivious to the tomato splatters on t-shirts and around mouths. Every plate is cleared - guaranteed - with no 'just one more mouthful and then you're done' cajoling.
This version is is based on my original Spahgetti and meatballs recipe, with the addition of some creamy, stretchy mozzarella inside each meatball.
My kids absolutely love them.  My youngest - Lewis - goes especially crazy for them, which is strange really, since he's not overly enamored with similar dishes like spag bol.
I wonder if I could get him to eat other other stuff he's not keen on in meatball form....
Thai meatballs stuffed with beansprouts and sliced onions (or other veg that looks like 'worms')
Middle eastern style, like these kofta from Little Sunny Kitchen
Kale, date and matcha energy 'meat' balls (green smoothies aren't his thing, but in ball form? yesss!)
Hummus-filled cauliflower dough balls (actually I quite like the sound of that myself!)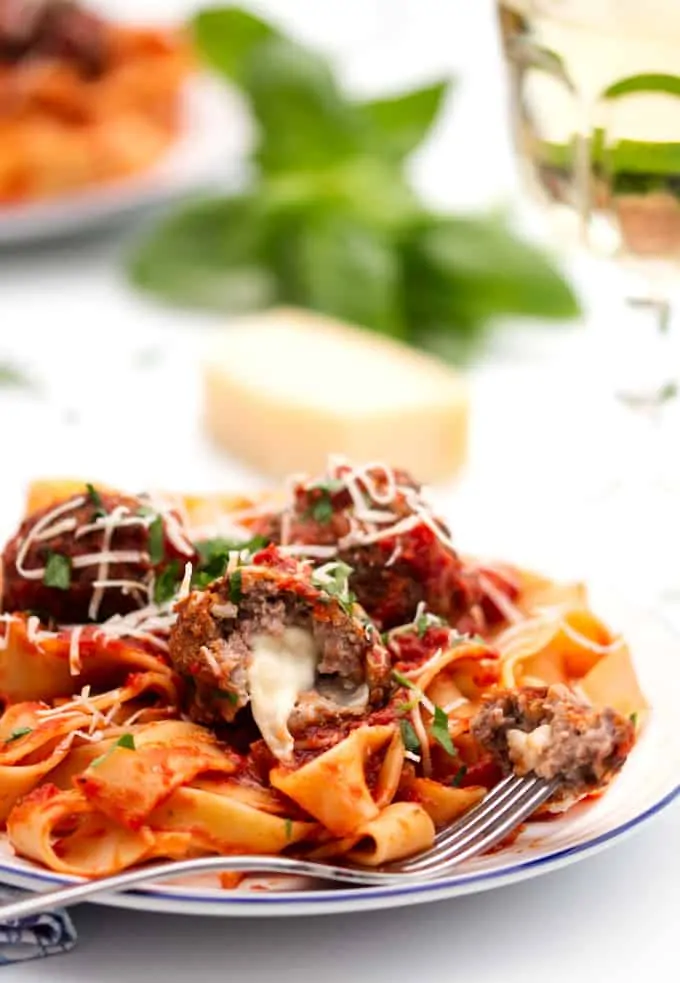 This is a great recipe to get the kids involved in. Mushing up the meatball mix is the kind of messy work that kids are made for.
You might end up with some meatballs the size of tennis balls, and some the size of marbles, but that's the charm of letting the kids help out.
There's actually a glass of wine in the sauce, so my suggestion would be to pour yourself a glass, kick off those shoes, and let the kids take control of the meatball making. I mean, how bad could it be?
Don't answer that.
I now have visions of Gracey trying to make butterfly shaped meatballs, whilst encouraging her usual partner in crime (the cat) to jump up and eat some straight from the bowl.
Lewis in the meantime would probably be catapulting meatballs pellets at the cat, whilst standing there with his hair covered in raw ground mince.
Bleurgh. I think I might just make them myself.
More Amazing Meatball Recipes:
If you've tried my recipe then please rate the recipe and let me know how you got on in the comments below, I love hearing your thoughts and add-ons to my recipes!
You can also follow me on INSTAGRAM, FACEBOOK, PINTEREST, and TWITTERto see what I'm up to in the kitchen, what recipes i'm loving, and of course YOUTUBE to see our latest recipe videos!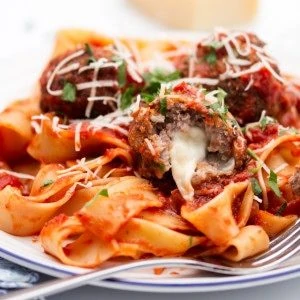 Mozzarella Stuffed Meatballs with Pappardelle
Tender meatballs stuffed with oozy mozzarella, served in a rich tomato sauce with pappardelle. Loved by kids and adults alike!
Ingredients
Meatballs:
4

good quality sausages taken out of their skins

-

use gluten free sausages if required

500

g

lean minced beef

50

g

panko or fresh breadcrumbs (gluten free grated bread works great)

4

tbsp

grated parmesan

1

small onion

-

finely chopped

1

tsp

dried oregano

1

egg

2

tbsp

olive oil

pinch

of salt and pepper

200

g

pack mozzarella,

-

chopped into 24 chunks (2 extra, just in case)
Sauce:
1

tbsp

olive oil

1

large onion

-

finely chopped

3

cloves

of garlic

-

crushed

120

ml

red wine

800

g

fresh tomatoes

-

or 2x400g (14oz) tins of chopped tomatoes

1

heaped tbsp of tomato puree

1

tbsp

sugar

1

tsp

dried oregano

pinch

of salt and pepper
also:
75

g

2.6 oz of pappardelle per person (use gluten free if required)

Grated parmesan and a bit of parsley or basil to serve
INSTRUCTIONS
Preheat the oven to 190C/375f.

Mix all of the meatball ingredients except the mozzarella in a bowl with your hands. Squash it all together but don't overmix as this will make the meatballs tough. Take a golf-ball chunk of the mix in your hands and flatten it into a pattie. The place a chunk of mozzarella in the middle and wrap the meat around. Roll into a ball and place on a baking tray, then repeat with the rest of the mix. Put in the oven for about 20 mins. Keep an eye on them toward the end of the cooking time and turn the oven down a little if they start going too dark.

Put the water on to heat for the pasta.

Whilst the meatballs are cooking, make the sauce. Fry the onions in the olive oil on a low heat for about 5 mins. Add the garlic, and cook for another couple of mins. Add the red wine and let it bubble for a couple of minutes.

At this point the water will probably be boiling, so put the papparedelle on to cook for about 12 minutes

Add the tomatoes, tomato puree, sugar, oregano and salt and pepper to the sauce and let it bubble until the meatballs and pasta are ready. If using fresh tomatoes, give them a bit of a squish a couple of times during cooking. Also, if you have the rind leftover from the parmesan you can bung it in there too – to add a bit more flavour (just remember to take it out before serving).

Drain the pappardelle and put on plates, then add the meatballs to the sauce and give them a quick mix. Place the meatballs onto the pasta (I usually serve 4 meatballs per adult and 2 for children) and garnish with some grated parmesan and parsley or basil.
✎ Notes
Nutritional Information is per serving, without serving of pasta or parmesan.
Nutrition
Calories:
439
kcal
Carbohydrates:
18
g
Protein:
30
g
Fat:
25
g
Saturated Fat:
9
g
Cholesterol:
114
mg
Sodium:
496
mg
Potassium:
759
mg
Fiber:
2
g
Sugar:
8
g
Vitamin A:
1395
IU
Vitamin C:
21.6
mg
Calcium:
246
mg
Iron:
3.3
mg
Some of the links in this post may be affiliate links – which means if you buy the product I get a small commission (at no extra cost to you). If you do buy, then thank you! That's what helps us to keep Kitchen Sanctuary running. The nutritional information provided is approximate and can vary depending on several factors. For more information please see our Terms & Conditions.