Juicy meatballs in a yummy tomato-based sauce - this Halloween Eyeball Sub is spooky and it makes a delicious dinner!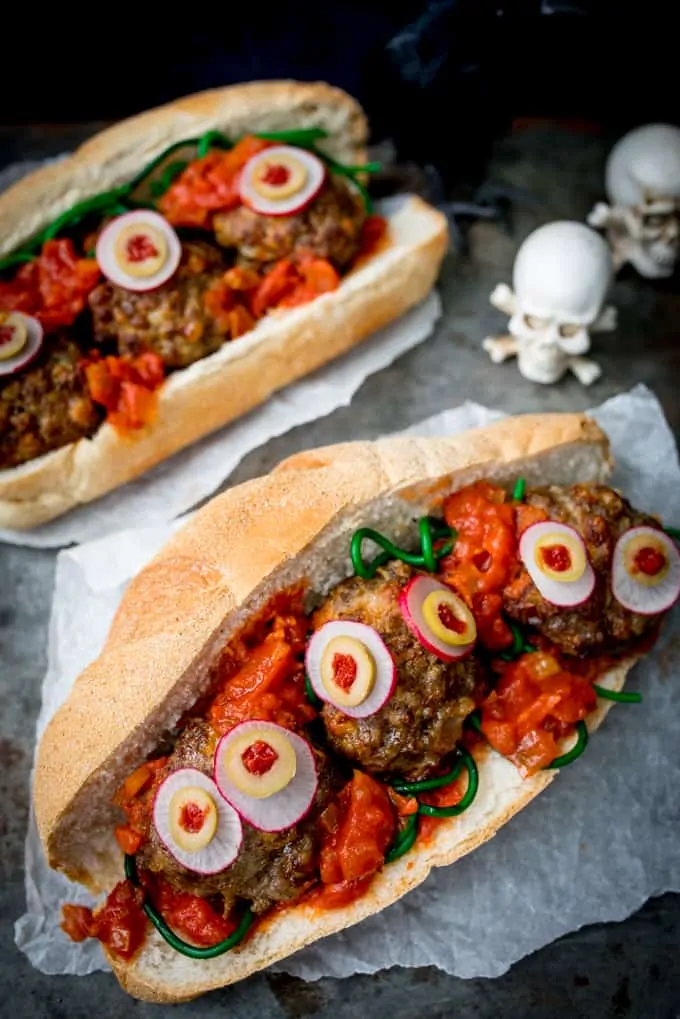 I think we got a bit carried away thinking about Halloween this year.
We're having a little Halloween party for the kids, so I've been buying spooky bits n' pieces for the past couple of weeks. We've also been experimenting with quite a few ghoulish treats. First there was the Scream Cheese. That wasn't really a recipe, more of daft thing to do with the kids (which they loved by the way - it's amazing how much fun they can have with gooey marshmallow!).
Next were the spider web doughnuts. Gone in no time - and I'll be making those again for our party. Then there is the deliciously spooky Halloween black cupcakes or Halloween Spider Web Chocolate Cupcakes
And here's our latest - Eyeball subs!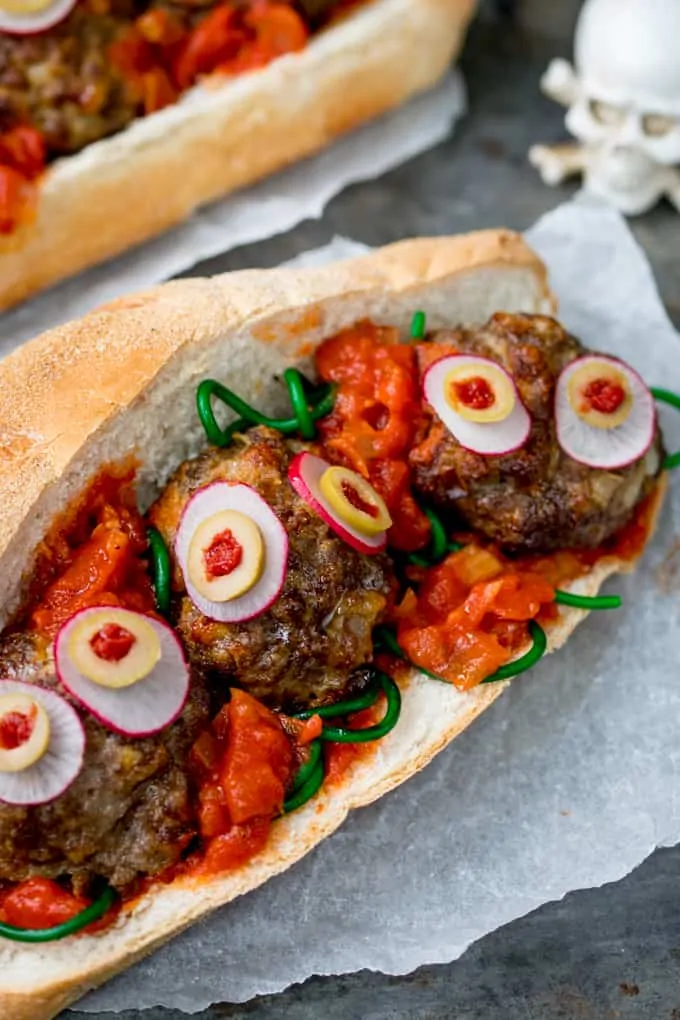 Again, the kids loved them, and what was really great, was that we could eat it as a regular dinner too!
Between you and me, I cooked up some more spaghetti - of the non-green variety this time (that green stuff is just too green for me!). The kids went with the subs - which were a little messy, but it was clean plates all round.
Chris was like a kid in a sweet shop, making the stop-motion video and finding creepy music.  Take a look at the video below.
Anyway, I think that's the last of our Halloween recipe experiments for this year. Are you making anything interesting for Halloween? I love to see new ideas!
It's onto Christmas next. Arrghh! I've noticed our Cranberry Brie bites are starting to get looked again, so I think there really are people out there who are planning for Christmas and Thanksgiving already! ????????
Is that you? Super-impressed over here!!
Are you super-organised? Have you bought all your pressies already? And what's your secret? I'm a planner by nature, but I just can't bring myself to start thinking about Christmas until we're past Halloween and Bonfire night.
Hope you enjoy the meatballs (check out my other meatball recipes here).
Halloween Eyeball Sub Recipe:
Halloween Eyeball Sub
Juicy meatballs in a yummy tomato-based sauce - this Halloween Eyeball Sub is spooky and it makes a delicious dinner!
Ingredients
Meatballs:
500

g

lean minced beef

4

pork sausages taken out of their skins

50

g

grated parmesan cheese

1

small onion

-

finely chopped

5

tbsp

fresh breadcrumbs

1

egg

1

tbsp

Worcestershire sauce

2

tbsp

olive oil

pinch

of salt and pepper
Spaghetti Sauce:
1

tbsp

olive oil

1

large onion

-

finely chopped

1

sticks celery

-

finely chopped

3

cloves

of garlic

-

crushed

2

x 400g (14oz) tins of chopped tomatoes

pinch

of salt and pepper
Also:
1

tsp

green food colouring

-

I use food colouring gel, as the colour is more vivid

cooked spaghetti

-

you only need about 100g/3.5oz cooked spaghetti (approx 50g/1.75oz dry weight for the subs, but you may want to cook more to go with the meatballs)

3

green olives

-

sliced

1

tbsp

tomato puree/paste

3

radishes

-

sliced

4

sub bread rolls

-

sliced in half, lengthways.
INSTRUCTIONS
Preheat the over to 200C/400F.

Mix all of the meatball ingredients in a bowl with your hands. Squash it all together but don't overmix as this will make the meatballs tough. Shape the meatballs into 12 balls – the size of a golfball – and place them on a baking tray. Bake in the oven for about 20 mins. Keep an eye on them toward the end of the cooking time and turn the oven down a little if they start going too dark.

Whilst the meatballs are cooking, make the sauce. Fry the onions and celery in the olive oil on a low heat for about 5 mins. Add the garlic and cook for a further minute.

Add the tinned tomatoes, tomato puree and let it bubble for 10 minutes until thickened.

Next colour the spaghetti. Take a small bowl or jug and add 120ml/1/2 cup of warm or cold water. Add the food colouring and stir. Add the spaghetti and stir until the spaghetti turns green. Carefully remove the spaghetti from the dye and give it a quick rinse under the tap to remove excess dye. Place in a bowl until ready to assemble the subs.

Now make the eyes. Place the olive slices on a chopping board and use the tip of a teaspoon to spread a tiny blob of tomato puree into the centre of each of the olive slices. Place one olive slice on top of each slice of radish. Repeat to make as many eyes as you like.

Place the subs on 4 plates. Spoon 2-3 tablespoons of the tomato sauce onto the base of each sub. Place 3 meatballs in each sub, and top with a few strands of spaghetti and another spoonful of the tomato sauce. Add one or two eyeballs to each meatball and serve!
✎ Notes
Nutritional Information is per serving.
Nutrition
Calories:
791
kcal
Carbohydrates:
69
g
Protein:
49
g
Fat:
35
g
Saturated Fat:
10
g
Cholesterol:
148
mg
Sodium:
1471
mg
Potassium:
1242
mg
Fiber:
7
g
Sugar:
13
g
Vitamin A:
525
IU
Vitamin C:
26.2
mg
Calcium:
373
mg
Iron:
9.4
mg
Some of the links in this post may be affiliate links – which means if you buy the product I get a small commission (at no extra cost to you). If you do buy, then thank you! That's what helps us to keep Kitchen Sanctuary running. The nutritional information provided is approximate and can vary depending on several factors. For more information please see our Terms & Conditions.