This is one of those recipes where it doesn't matter whether you're gluten intolerant or not.  These Gluten Free Chocolate Peanut Banana Cupcakes are so good, you just can't tell the difference.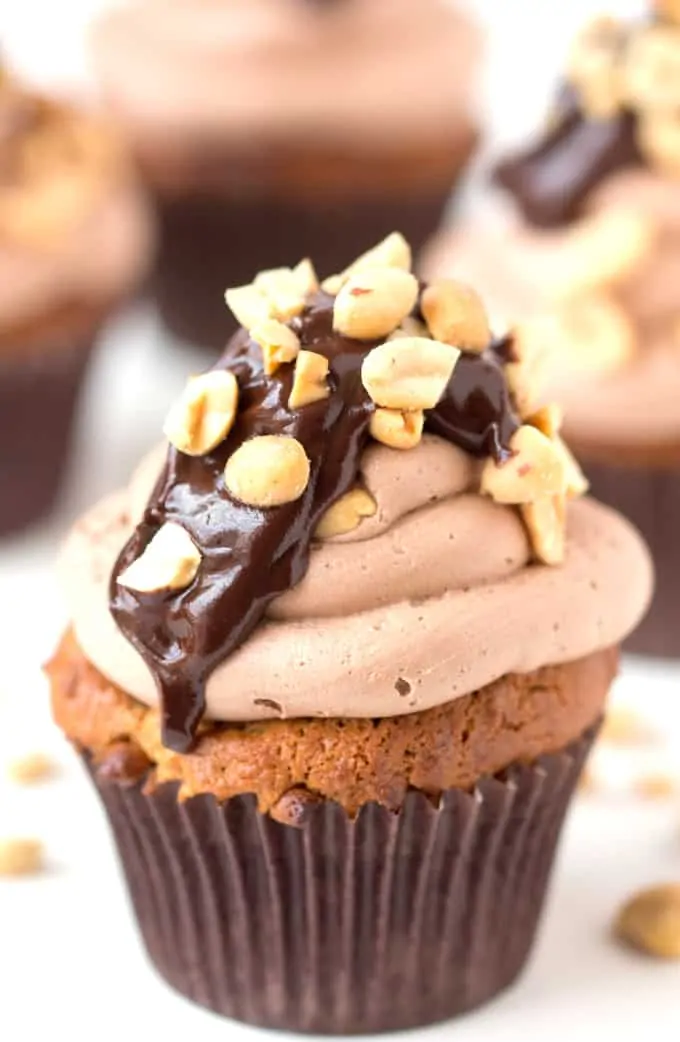 I was about to start this post off telling you that I was sitting on the sofa at my folks house listening to my dad playing on his guitar and singing a song with his lovely voice. Living over 50 miles away, I don't get to hear his chilled-out tunes anywhere near as much as I used to when I lived here.
Unfortunately the tranquility lasted all of 3.5 minutes before my 5-year-old took over the guitar - and now I'm listening to a right old racket. Why do kids insist on strumming as hard and as loud as they can, then demand praise for how good it sounds?
I did try to fib, but I think he could see right through my 'erm, yes lovely darling'. Not that he was bothered, he just played louder.
I'm over here for a girls-night-in with my best school buddies. We've been friends for 25 years – since high school, and we try to get together at least every few months for a catch-up. Tonight it's going to involve numerous bottles of bubbly, nail painting, gossip, takeout and these cupcakes.
They evolved from a few products I've been experimenting with  – kindly sent to me by Sukrin. I already use their coconut flour in gluten-free baking, so couldn't resist using that along with some of their peanut flour.
Have you ever tried peanut flour?
Wow I was amazed. It added a lovely peanut butter flavor to the peanut and banana bit of the cake, and it's actually 50% protein. I've been told you can add it to smoothies and cookies, or even add a bit of water to it and turn it into a really low-fat peanut butter. I've not tried that yet, but I might try it out on my son (who's a peanut butter-aholic).
They also sent me some sugar-free chocolate – which was surprisingly good too. The chocolate with salted almonds is the one to go for.
So I guess I really made two cakes – one was a fudgy chocolate brownie, that I cut into cubes. I then placed these cubes into my peanut-banana cake batter and cooked them, before topping with Nutella frosting, a little melted dark chocolate and a few chopped, salted peanuts.
Oh, time to go out! I'll be back to finish off this Gluten Free Chocolate Peanut Banana Cupcakes post tomorrow.
Ok, I'm back.
Definitely way too much bubbly consumed, and we were so busy chattering that we never even managed to start on our nails.  However, we did manage to fit in these Gluten Free Chocolate Peanut Banana Cupcakes - even after rather a lot of Chinese food.
And I can confirm they were delicious!
In fact my friend Helen muffled between mouthfuls that they were the best cupcakes she's ever tasted (Sorry H, had to quote you on that one :-))
Ok, I'm going to leave it there whilst I go in search of coffee and paracetamol....
Gluten Free Chocolate Peanut Banana Cupcakes Recipe: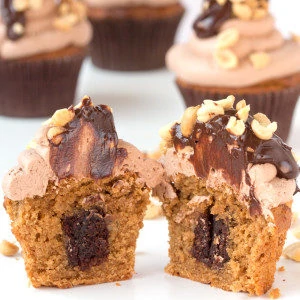 Gluten Free Chocolate Peanut Banana Cupcakes
Gluten Free peanut banana cupcake with chocolate brownie baked inside. Gluten Intolerant or not, these Gluten Free Chocolate Peanut Banana Cupcakes will be loved by everyone.
Ingredients
Chocolate Brownie:
225

g

unsalted butter

-

softened

200

g

golden caster sugar

3

eggs

-

lightly whisked

2

tsp

vanilla extract

150

g

ground almonds

-

almond meal

2

tbsp

coconut flour -

I used Sukrin's

5

tbsp

cocoa powder

-

check it's a gluten free variety, and sift if lumpy
Peanut Banana cake:
3

large or 4.5 small ripe bananas

-

sliced

180

ml

coconut oil -

melted and slightly cooled

185

g

Golden Caster sugar

2

small eggs

150

g

gluten free Plain flour

120

g

peanut flour

-

I used Sukrin's

1.5

tsp

gluten free Baking powder

¾

tsp

Bicarbonate of soda
Topping:
300

g

butter – softened

300

g

icing sugar

300

g

Nutella

50

ml

double/heavy cream

50

g

good quality dark chocolate -

make sure it's gluten free, broken into pieces

1

cup

salted peanuts

-

roughly chopped
INSTRUCTIONS
Preheat the oven to 180C/350F and line a 24cmx24cm tin with baking parchment.

Make the chocolate brownie first.

Beat the butter and sugar together in a food mixer for 3-4 minutes until light and creamy. Add in the eggs and vanilla extract. Mix on medium speed to combine. Fold in the ground almonds, coconut flour and cocoa powder.

Spoon the mixture into the prepared baking tin and smooth with your spatula so it's relatively level all over. Cook for 25 minutes.

Take out of the oven and cool in the tin for 10 minutes, then carefully remove from the tin (you can leave it in the baking parchment) and place on a cooling rack to cool completely.

Once cool, cut out twelve cubes of brownie – 1.5 inch cubes (you'll have some brownie left over). If your brownie is a little on the squidgy side (as all good brownies are), place the cubes in one layer on a plate and place in the freezer for 10-15 minutes whilst you make the peanut/banana batter. Giving them a light freeze will help them to hold together when you push them into the peanut banana cake batter later.

Now start on the peanut banana cake batter.

Preheat the oven to 200C/350f and line a 12-hole muffin tin with muffin cases.

Beat the bananas in a food mixer until broken down and just a bit lumpy. Add in the coconut oil, sugar and eggs. Beat for a minute on medium until combined. Add in the flours, baking powder and bicarbonate of soda and fold together using a spatula until just combined.

Divide the mixture between 12 cupcake cases – leaving a few tbsp. of it behind in the bowl.

Take your brownie cubes out of the freezer, and push each one into the centre of the peanut banana mixture – all the way to the bottom. Top any bits of brownie that are sticking out with the remaining peanut banana mixture from the bowl.

Place in the oven for 5 minutes at 200c/400f and then turn down to 180c/350f for the remaining 15 minutes. Take out of the oven and cool completely on a rack.

To make the Nutella frosting, whisk the butter and icing sugar together (using a balloon whisk or mixer) until smooth and creamy – about 3 minutes. Then add in the Nutella, and whisk until fully combined.

Spoon the frosting into a piping bag fitted with a large, plain round nozzle. Starting from the outside and working towards the centre, pipe the frosting on top. Repeat with the remaining cupcakes.

Heat the cream in a microwave or pan until almost boiling, then take off the heat and add in the chocolate. Place a lid or plate on top and allow the chocolate to melt for a few minutes, then give it a short whisk until the chocolate becomes thick and glossy. Leave to cool and thicken for 5 minutes, then spoon over the cupcakes. Finish the cupcakes by topping with a tbsp. of chopped peanuts.
✎ Notes
These cupcakes will keep for 2-3 days in a sealed tub at room temperature.
.
These are large indulgent treats.
Nutritional Information is per serving.
Nutrition
Calories:
1124
kcal
Carbohydrates:
99
g
Protein:
15
g
Fat:
78
g
Saturated Fat:
47
g
Cholesterol:
168
mg
Sodium:
355
mg
Potassium:
603
mg
Fiber:
8
g
Sugar:
75
g
Vitamin A:
1270
IU
Vitamin C:
2.6
mg
Calcium:
144
mg
Iron:
4
mg