These garlic and spinach stuffed pasta shells are creamy, cheesy and delicious! A meat-free meal that the kids love too!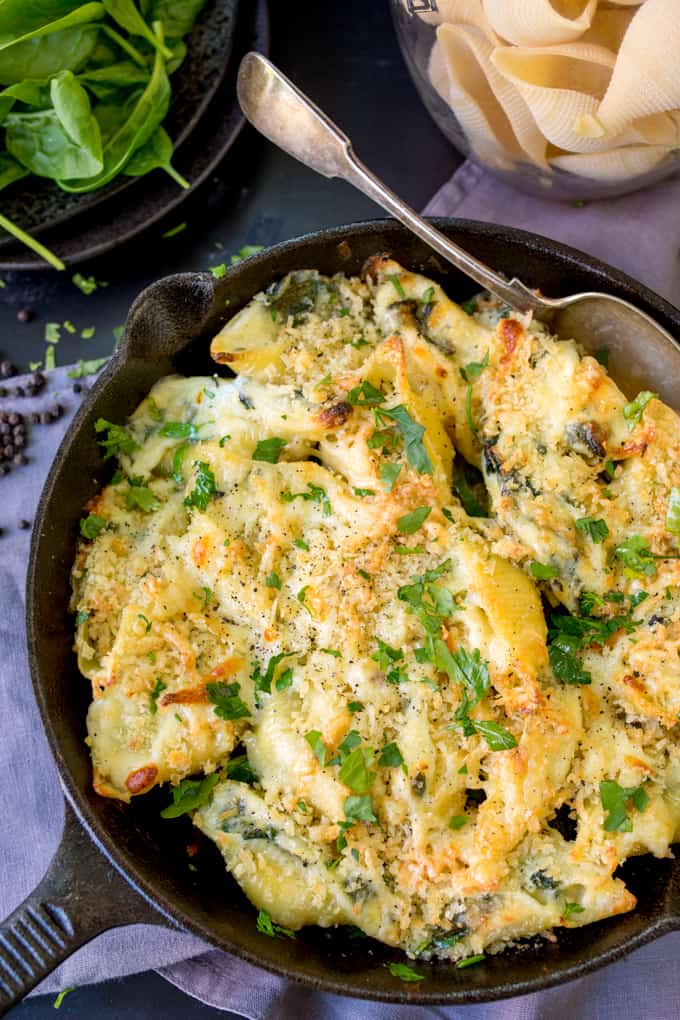 I can't deny it, stuffing pasta shells is a bit of a messy job, but it's so worth it for this garlicky spinach and cheese combo.
I like to tell the kids that I've magically made regular pasta shells bigger with a little help from my wooden spoon wand.
I'm pretty sure they don't believe me, but it is fun when the kids think you have a few superpowers.
My mum used to hide sweet around the house and then say a 'magic word' that would make them appear. I'd be amazed when I looked behind the cushion or the plant pot. I just couldn't understand why she couldn't do it all the time 🙂
Well it's bank holiday Monday in the UK! The weather actually isn't too bad at the moment, and maybe, just maybe we'll get to have a barbecue for dinner.
Like the cool and awesome family that we are (erm yeah, ok). We spent the weekend at a festival! The Big Feastival in the cotswalds to be precise.
One year ago we were there, and I was competing in the live cook-off to win a kitchen full of Neff goodies. This time I was judging the cook-off, and Gracey was one of the judges for the kid's cook off!
Although not as nerve racking as last time, my heart was still pounding when my name was announced to go up on stage. The two finalists, Jess (who teaches nutritious cooking for kids and has the blog Cook It with Kids) and Jane (who blogs at Hedgecombers with a focus on cooking from her small-holding and allotment, plus camper-van cooking!) looked remarkably composed (although having spoken to them earlier, they were definitely nervous too).
Both were tasked with making a one-pot pasta dish inspired by the Mexican version I did for Neff a few months ago.
Jess went Greek - using Orzo pasta, meatballs, feta, olives and lots of fresh herbs.
Jane went Asian - using pappardelle, duck mince, garlic, ginger and peanut butter.
Both tasted absolutely delicious, and when the audience came to vote (using red and white balloon clappers), it looked like they agreed too! I could see pockets of red and white everywhere, with no obvious winner - which meant I had to decide!! Oh my goodness, it was so difficult to choose. Both dishes were fab!
In the end I picked Jane - I just loved those Asian flavours! It was such a close call though.
Gracey also got to help judge the kid's cookaholics competition the next day. Both girls - Sienna and Cooper did an amazing job, with Sienna winning in the end.
The rest of the Feastival involved eating ridiculous amounts of food (fresh pasta, wood-fired pizza, waffles with chocolate and ice cream, crispy chicken burger with brown butter mayo, ice cream-filled fresh donuts.....).

I also spent a fair amount of time being star-struck when meeting chefs backstage at the Neff stage - such a Cyrus Todiwala, Anthony Carluccio and Nathan Outlaw. I spotted Jamie Oliver too, but decided against chasing him down for an autograph.
A brilliant weekend!
Gracey looking cool with her newly pierced ears!
Now that I've brain-dumped the last 48 hours on you guys (sorry :-D) - here's the recipe!
The Garlic and Spinach Stuffed Pasta Shells Recipe: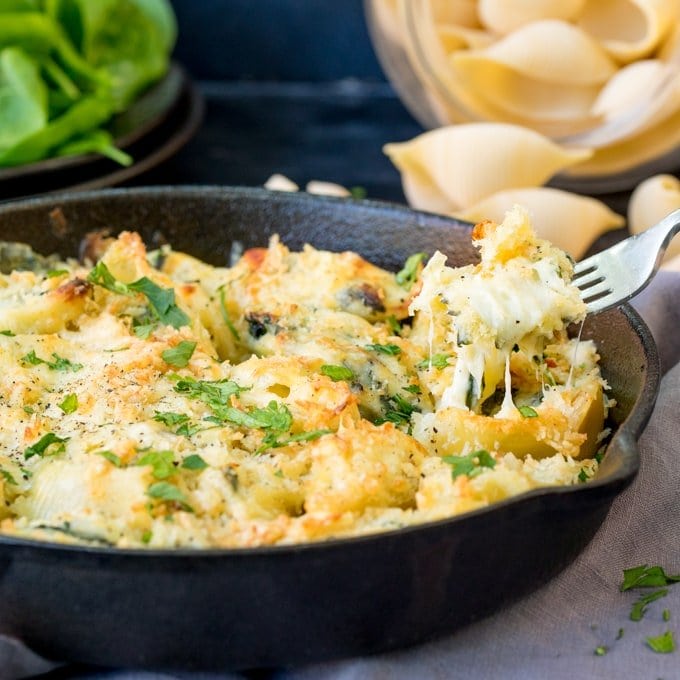 Garlic and Spinach Stuffed Pasta Shells
These garlic and spinach stuffed pasta shells are creamy, cheesy and delicious! A meat-free meal that the kids love too!
Ingredients
200

g

giant pasta shells

50

g

unsalted butter

80

g

plain (all purpose) flour

500

ml

milk

130

g

mature cheddar cheese, grated (use a vegetarian version is needed)

75

g

mozzarella cheese, grated (use a vegetarian version is needed)

½

tsp

salt

½

tsp

freshly ground black pepper

1

tbsp

olive oil

2

fat cloves of garlic

-

peeled and minced

100

g

baby spinach, roughly torn

4

tbsp

panko breadcrumbs

3

sprigs fresh parsley

-

finely chopped
INSTRUCTIONS
Preheat the oven to 200C/400F.

Place the pasta shells in a large pan of boiling water and cook for 10 minutes until el dente. Drain and run under cold water to prevent the shells from sticking together.

Meanwhile, make the cheese sauce. Place the butter in a medium-sized saucepan and heat on a medium-high heat until melted. Add the flour and stir with a whisk until a smooth paste forms. Add the milk a splash at a time, stirring with the whisk until smooth before adding the next splash of milk. When all of the milk has been added, continue to stir, whilst heating until the sauce thickens.

Once thickened, add all but 3 tbsp of the cheddar cheese, all of the mozzarella, half of the salt and half of the pepper. Stir until the cheese melts, then turn off the heat.

Heat the olive oil in a frying pan/skillet on a medium heat and add the garlic. Allow to cook gently for 30 seconds, then add in the spinach and the remaining salt and pepper. Allow to wilt, stirring occasionally, then add the spinach to the cheese sauce.

Place the shells in a large, oven-proof serving dish. Use a spoon to carefully fill each shell with the spinach/sauce mixture.

Sprinkle on the breadcrumbs and the remaining cheddar cheese. Place in the oven for 20 minutes until golden brown.

Sprinkle with parsley before serving.
✎ Notes
Nutritional Information is per serving (based on 2 hungry people!).
Nutrition
Calories:
1135
kcal
Carbohydrates:
91
g
Protein:
44
g
Fat:
65
g
Saturated Fat:
36
g
Cholesterol:
170
mg
Sodium:
1473
mg
Potassium:
866
mg
Fiber:
4
g
Sugar:
15
g
Vitamin A:
6570
IU
Vitamin C:
15
mg
Calcium:
1015
mg
Iron:
5.3
mg