This Chinese Crispy Chicken with Honey Garlic Sauce is one of those meals everyone loves! In this honey chilli chicken recipe i show you how to turn regular chicken tenders into wonderfully addictive Asian chicken tenders.  Scroll down for our video showing you all the steps.
If you look at my Top Posts & Pages widget on the sidebar, I'm willing to bet there are at least two Asian-inspired recipes on there.
You guys seems to love the Chinese stir fry's, sticky-spicy combos like my Crispy Sesame Chicken and curries like my Beef Massaman, so I'm hoping you're going to love this one too!
Not gonna lie - it takes a little bit of effort, as you need to deep-fry the crispy chicken tenders first - if you want really crispy, juicy chicken strips. Once that's done, it's a pretty simple case of mixing and bubbling up the sauce ingredients.
I am working on a stir-fry and an oven-baked version of this chicken. So once I get the formula just right, I'll update this post with an alternative to the deep frying method.
Go spicy with the addition of fresh chillies and a sprinkling of dried chilli flakes at the end, or keep it mild and bypass the chillies completely. If you're cooking for a group of people who have mixed tastes when it comes to chilli, simply serve up the mild version first, then throw in ¼ tsp dried chilli flakes per-person to the portions that are still in the pan. Let it bubble for 30 seconds, then dish it out.
Check out the video of how to make Chinese Crispy Chicken with Honey Garlic Sauce Below:
Serve it up with a big pile of boiled rice and some stir-fried or steamed greens, and whoa! You're in for a treat!!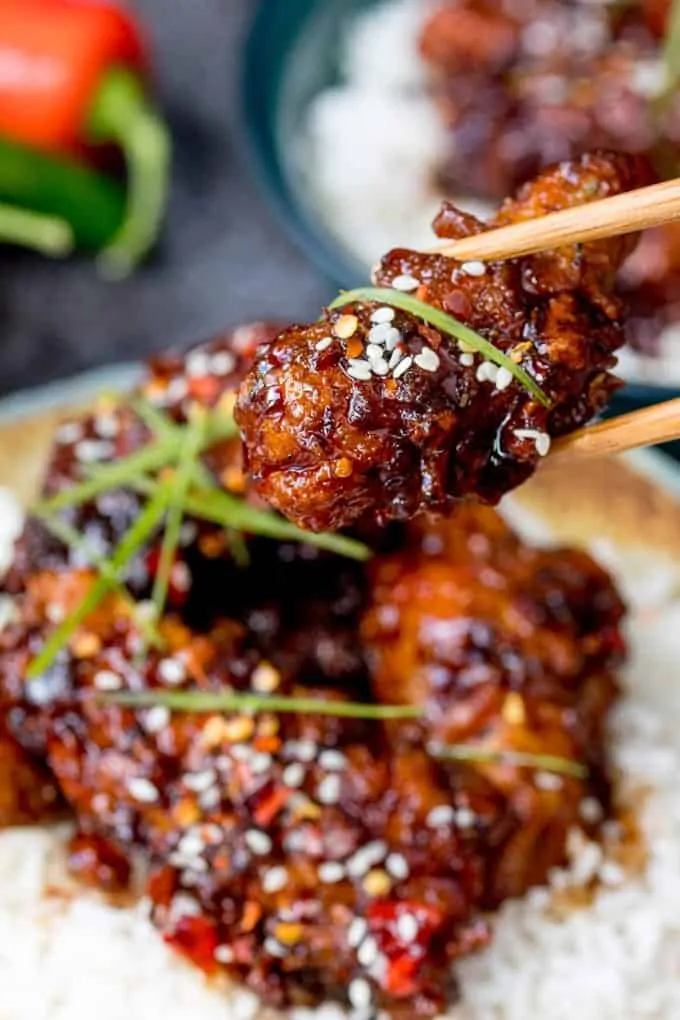 The crispy chicken part of this honey chilli chicken recipe is based on my basic Chicken tenders recipe (definitely worth a try - served with a creamy garlic-chilli dip). It's pretty versatile, and you can use it for the base of sweet and sour chicken, orange chicken, or even crispy chicken burgers with honey mustard coleslaw.
The sauce part is based on the sauce I use for my sticky Chinese pork belly. Again, it's versatile - you can use it for ribs, beef, or as a dipping sauce for spring rolls.
If you try it, please leave a rating and let me know what you think in the comments below.
Equipment:
In order to make this Honey Chilli Chicken recipe you will need:
The Chinese Crispy Chicken with Honey Garlic Sauce Recipe: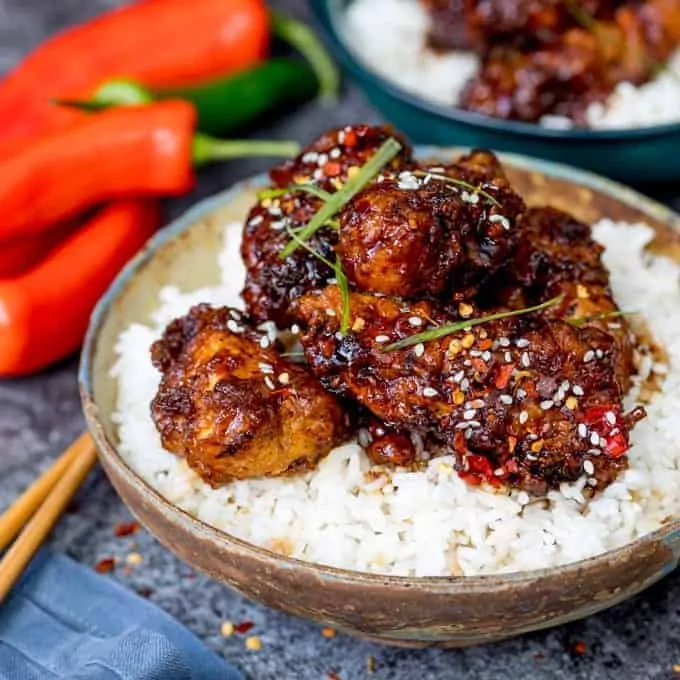 Chinese Crispy Chicken with Honey Garlic Sauce
This Chinese Crispy Chicken with Honey Garlic Sauce is one of those meals everyone loves! Easy to make spicy or mild. Way tastier and much more satisfying than takeout!
Ingredients
INSTRUCTIONS
Place the chicken in a bowl or large ziplock bag. Add the buttermilk, salt, pepper, and garlic salt. Mix together, cover (if in a bowl), and place in the refrigerator to marinade for 3-6 hours.

3 chicken breasts,

240 ml (1 cup) buttermilk,

½ tsp salt,

¼ tsp white pepper,

¼ tsp garlic powder

Preheat the oven to a low heat (to keep cooked tenders warm). Heat a large pan filled with no more than one-third of vegetable oil (or preheat your deep fat fryer) until hot (you can test by dropping a small cube of bread in there, if it rises immediately to the top and starts to bubble rapidly, it's hot enough). You'll need at least 4 cups of oil. 

Mix together the crispy coating ingredients in a small bowl.

180 g (1 ½ cups) plain (all-purpose) flour,

1 tsp salt,

1 tsp ground black pepper,

½ tsp garlic powder,

½ tsp celery salt,

1 tsp dried thyme,

1 tsp paprika,

1 tsp baking powder,

1 tsp chilli flakes

Take the chicken out of the refrigerator and dredge each piece through the crispy coating mixture – ensuring it's fully covered. Place on a tray in a single layer ready for frying.

Once the oil is hot enough, add in 4 or 5 of the chicken tenders. You can add more or less depending on the size of your pan, just be sure not to overcrowd the chicken. 

Cook for 3-5 minutes until golden brown and cooked in the center. You can check this by cutting open a piece of chicken, if it's no longer pink in the middle, it's cooked. Place on a tray in the oven to keep warm whilst you cook the rest of the chicken.

When the chicken is 5 minutes away from being cooked, make the honey garlic sauce.

Heat the oil in a frying pan (skillet) on a medium heat.

Add the ginger, garlic, chilli, and lemongrass paste. Stir and heat through for 30 seconds.

1 thumb-sized piece of ginger,

1 fat clove of garlic,

1 red chilli,

1 tsp lemongrass paste

Then add in the soy sauce, followed by the honey, brown sugar, and pepper. Turn the heat up to medium-high, bring to a boil, then turn down the heat slightly and allow to bubble gently for 5 minutes until slightly reduced and thickened.

6 tbsp soy sauce,

4 tbsp honey,

4 tbsp brown sugar,

pinch black pepper

Add the chicken and stir to coat.

Serve the chicken with boiled rice and top with strips of spring onion, sesame seeds, and chilli flakes. Serve with green veg too if you like.

boiled rice,

2 spring onions/scallions,

1 tsp sesame seeds,

1 tsp dried chilli flakes,

green stir-fried or steamed veg
✎ Notes
*Note - if you like it saucy you can double the quantities in the sauce
.
Nutrition info is for one serving of this recipe, not including serving suggestions of rice or green veg. This info is approximate, as all of the flour may not be used up in coating the chicken (I've counted all of the flour as part of the nutritional info though). Also, I've included 1 tbsp of oil per serving to account for the oil that is absorbed during deep drying (this is an *approximate* amount, the chicken may absorb more or less).
Nutrition
Calories:
590
kcal
Carbohydrates:
72
g
Protein:
28
g
Fat:
22
g
Saturated Fat:
15
g
Cholesterol:
60
mg
Sodium:
2858
mg
Potassium:
738
mg
Fiber:
2
g
Sugar:
33
g
Vitamin A:
870
IU
Vitamin C:
18.6
mg
Calcium:
163
mg
Iron:
4.2
mg
Some of the links in this post may be affiliate links – which means if you buy the product I get a small commission (at no extra cost to you). If you do buy, then thank you! That's what helps us to keep Kitchen Sanctuary running. The nutritional information provided is approximate and can vary depending on several factors. For more information please see our Terms & Conditions.