These Spicy Breakfast Eggs are a delicious high protein breakfast with 'eggstra'  veggies and a good chilli kick!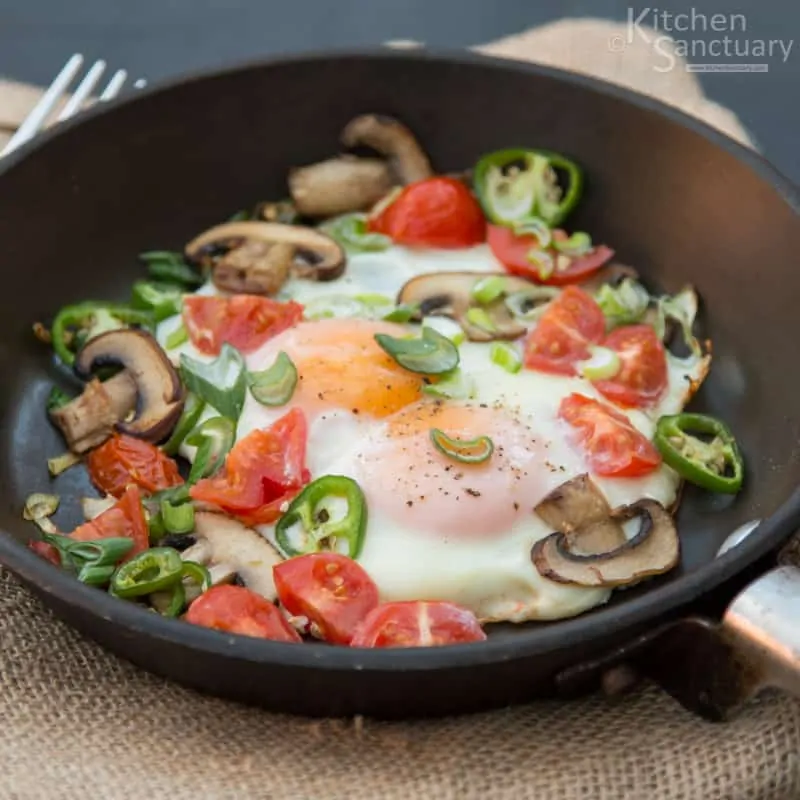 Overdid it slightly with the easter eggs…
How is it that a grown woman can sit on the sofa and eat easter eggs until she literally feels sick? And I'm not even talking one time, I'm talking every evening for 5 days!!
I'm a certified chocolate addict, so my chocolate drugged brain told me it was better to get it eaten and out of the way.  Now all my eggs have gone (and I'm starting to think about 'saving' the kids from having too much of their chocolate), I really should try to be good.
So keeping to the egg theme, how about this great low-cal lunch?  I love the kick from the chillies in these fried eggs! And the mushrooms give a satisfying meaty bite.
For those of you not thinking about calorie counting, well, I wouldn't really change this dish.  I'd consider adding a couple of pieces of toast on the side (can't resist a salty dippy egg yolk). If you can manage without the toast, then this lovely breakfast/brunch comes in at 161 calories.  Woo hoo I can burn that off in a 30 min spin class and still have enough calories left for a milky way....
Spicy breakfast eggs Recipe: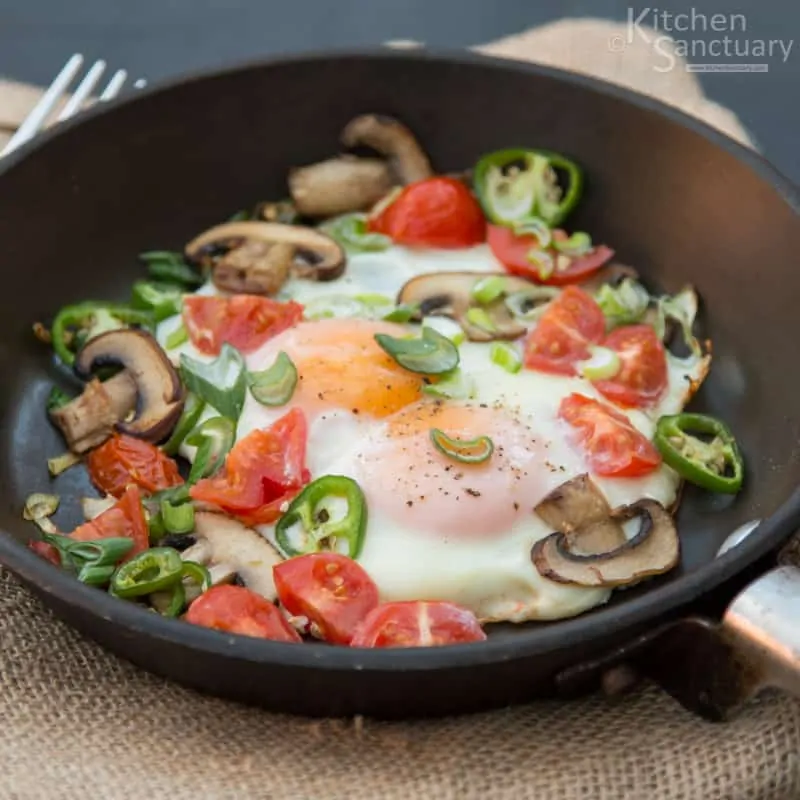 Spicy Breakfast Eggs Recipe
These Spicy Breakfast Eggs are a delicious high protein breakfast with 'eggstra' veggies and a good chilli kick!
Ingredients
Ingredients:
10

squirts '1-cal-per-squirt' oil spray

2

regular mushrooms

-

chopped

1

fresh Jalapeno

-

or alternative chilli, sliced

2

large eggs

1

spring onion/scallion

-

chopped

3

cherry tomatoes

-

chopped

salt and pepper
INSTRUCTIONS
Put a small-ish frying pan on the hob on a medium heat and add 10 squirts of oil spray.

Add the mushrooms and cook for a couple of minutes, giving them a stir every so often. Season with a bit of salt and pepper, then add in the sliced jalapeno Give it a stir and then gently break the two eggs into the pan. Throw in the spring onions and tomatoes and a good pinch of salt and pepper. Leave to cook for about 2 mins.

At this point your eggs will probably be cooked underneath, but uncooked on top. **Kitchen Sanctuary tip** Now get a piece of kitchen roll and wet it under the tap. Give a light squeeze, but try to keep a fair amount of water in it without it dripping everywhere. Place the scrunched up wet tissue in pan (somewhere where there're no ingredients, so the tissue is touching the pan) and place a lid or a piece of tinfoil on the pan. This will now steam the top of the egg, which means you don't have to cook it for so long that your other ingredients burn. Leave to cook another minute or two - until the white of the egg is cooked, but the yolk is still nice and runny.

Take the lid off the pan and serve!
✎ Notes
Nutritional Information is per serving.
Nutrition
Calories:
161
kcal
Carbohydrates:
6
g
Protein:
13
g
Fat:
9
g
Saturated Fat:
2
g
Cholesterol:
327
mg
Sodium:
135
mg
Potassium:
359
mg
Fiber:
1
g
Sugar:
3
g
Vitamin A:
995
IU
Vitamin C:
31.4
mg
Calcium:
49
mg
Iron:
2.1
mg