Sweet, ripe tomatoes, creamy mozzarella and garlic croutons all come together with a simple but delicious dressing. This Panzanella Caprese with Garlicky Croutons is to die for...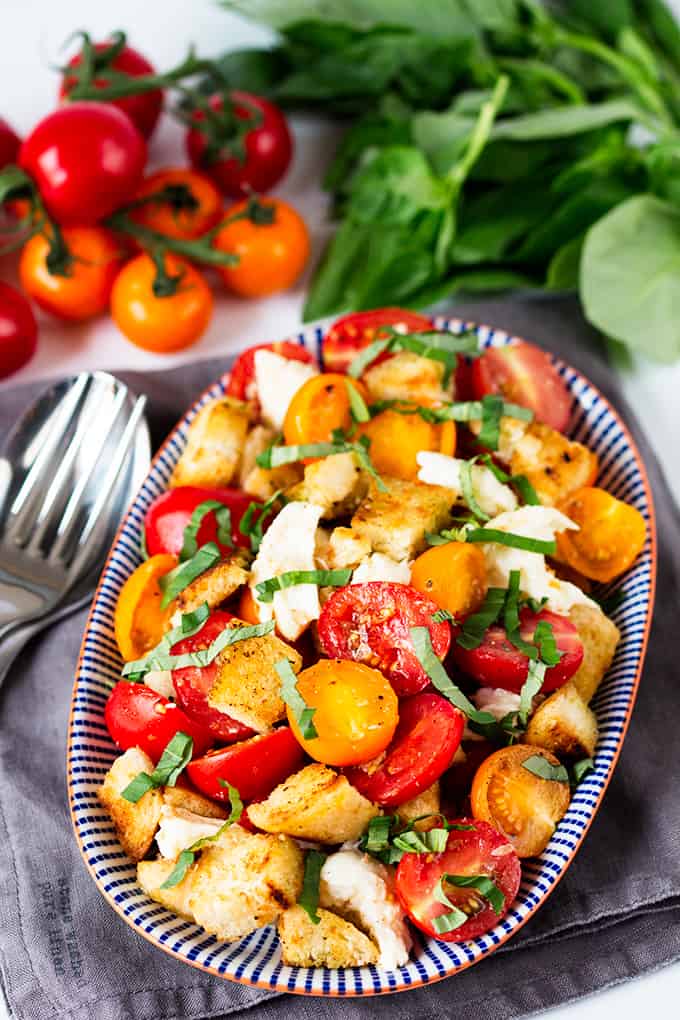 This salad is guaranteed to get your tastebuds tingling.
I know there are lots of variations of the classic Panzanella, but the for the most part, the basic recipe consists of beautifully ripe tomatoes, bread (usually stale) soaked in tomato juices, a simple dressing and plenty of seasoning.
I'm not really keen on the soggy bread thing, so I use slices of garlic bread that have been chopped and then crisped up in a pan.
Now this type of bread drizzled with tomato juices and dressing is a whole other story!
The tomatoes need to be really ripe, and at room temperature - to ensure maximum flavour.  They're then seasoned with salt and pepper and left to rest for 10-15 minutes.  This gives enough time for the salt to draw some of the juice out of the tomatoes.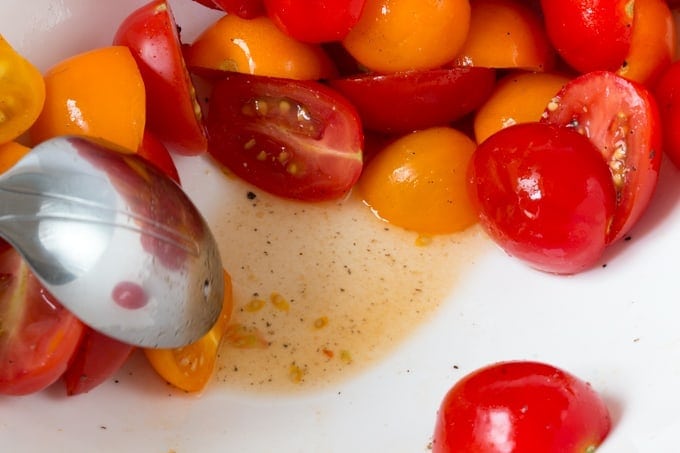 That juice, with a bit of oil, vinegar and garlic? BEST DRESSING EVER!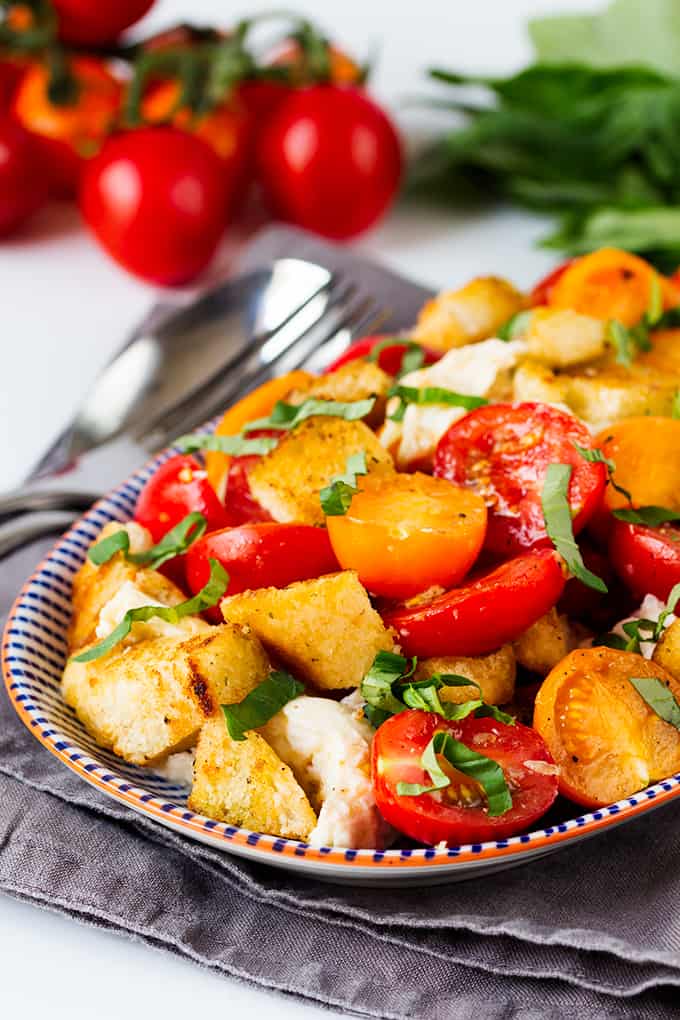 The flavours in this Panzanella Caprese with Garlicky Croutons salad always taste amazing.  However, I made this particular salad after I attended the 'Introduction to mindful eating' online workshop - with The Mindfulness Project.
Sitting down and actually giving the meal my full attention honestly made a huge difference to how much I enjoyed it.
and by 'giving the meal my full attention' I don't mean just turning off the TV, or the laptop, but actually paying attention to the whole experience:
The taste of the food, and the complexity of the flavours
How satisfying the first and then subsequent mouthfuls were
How I was actually feeling more satiated and full with each mouthful
It really did make me enjoy the salad more, and feel satisfied with less than I usually do.
Now, I'm not saying that my life has been changed, and I'll no longer be as greedy as I usually am, but I do think that with practice, mindful eating is something that could help me to reduce my food intake.
I've started to become more aware of when I've just picked up a biscuit and scoffed it, and it's stopped me from doing the same with 3 further biscuits.
I've also started to appreciate the flavours of what I'm eating more, and to listen to my body when I want to eat something.
I still find it hard to differentiate between hunger and a craving.
Also, I still find that when I'm busy, or when I'm eating with the family at the table, I revert back to my normal habits of eating till it's gone.
Mindful eating seems to take a lot of time at first - which is probably why i'm reverting back to those habits during busier times.
I'm hoping that as I get more used to doing the exercises we were taught on the workshop, that amount of time it takes will reduce, so I can more easily incorporate mindful eating into every meal and snack - rather than just the ones where I have time.
There is a full-day Mindful Eating course in London on the 4th October, but I can't make it as I'll be at my nieces birthday party.  I'm hoping there will be more courses (especially online courses) to help me delve further into this way of eating.
Do you practice Mindful Eating? do you have any experience of helping to form the practice into a habit? I'd love to know!
The Panzanella Caprese with Garlicky Croutons Recipe:
Panzanella Caprese with Garlicky Croutons
Panzanella Caprese salad. The dressing-soaked garlic croutons are what makes this salad so amazing!
Ingredients
400

g

(14oz) mixed, vine-ripened tomatoes – make sure they're room temperature and not straight from the fridge for maximum flavour.

Large pinch of freshly ground salt and pepper

1

tbsp

olive oil

4

slices

garlic bread from a refrigerated garlic baguette

-

alternatively you can mix 3 tbsp salted butter with 1 minced garlic clove and ½ tsp fresh or dried parsley, and spread it on 4 slices of baguette – both sides
Dressing:
2

tbsp

olive oil

1

tbsp

red wine vinegar

½

tsp

caster sugar

½

a clove of garlic

-

peeled and minced
To Serve:
125

g

(4.4oz) Mozzarella, roughly torn

10

basil leaves

-

sliced or torn
INSTRUCTIONS
Chop the tomatoes and mix with the salt and pepper – leave for 10-15 minutes to release their juices.

Heat the olive oil in a frying pan, and place in the garlic bread slices. Toast each side for 2-3 minutes until golden brown. Remove from the pan and cut into chunks.

Mix the dressing ingredients together in a small jug.

Place the garlic bread chunks in a serving bowl or on a large plate. Mix in the tomatoes – juices as well. Drizzle on half of the dressing, and toss to ensure the garlic bread mixes with the dressing. Leave for 10 minutes to allow the flavours to develop and for the bread to soak up the liquid.

Top with the torn mozzarella and basil and serve with the remaining dressing.
✎ Notes
Nutritional Information is per serving.
Nutrition
Calories:
254
kcal
Carbohydrates:
14
g
Protein:
9
g
Fat:
17
g
Saturated Fat:
5
g
Cholesterol:
24
mg
Sodium:
283
mg
Potassium:
281
mg
Fiber:
1
g
Sugar:
3
g
Vitamin A:
1095
IU
Vitamin C:
13.7
mg
Calcium:
175
mg
Iron:
1
mg