Cranberry and Apple Hot Smoothie - A spicy and refreshing breakfast that warms you up from the inside.  I really enjoyed this smoothie - even more so for the fact it's only 178 calories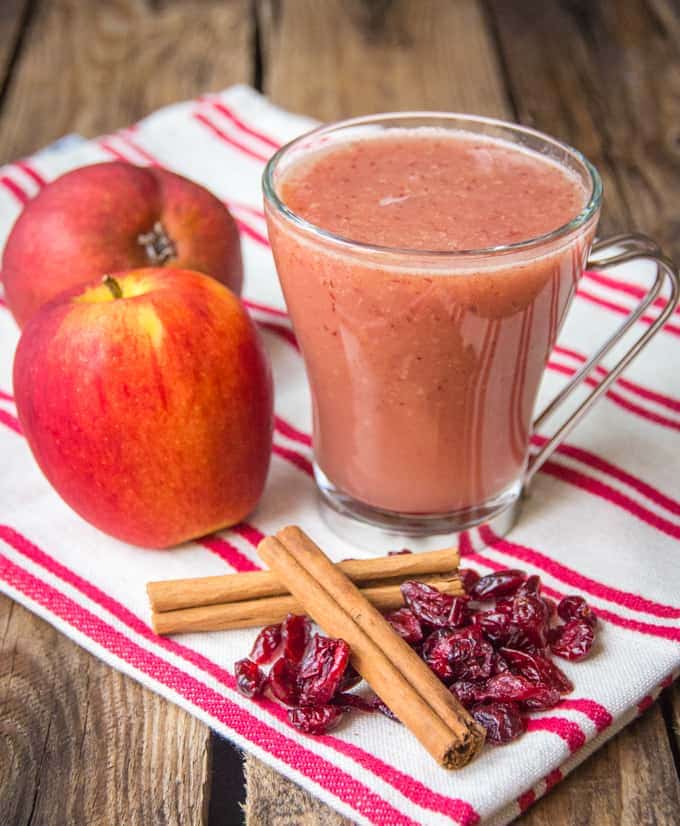 Meet the second in my series of hot smoothies for October - The cranberry and apple hot smoothie.
I may have been slipping slightly into Christmas mode already with the cinnamon and cranberry flavours, but they just work so well!
I'm going to be moving onto some creamier smoothies next week, so if you prefer to stay with fresh and fruity, then this one or my hot green smoothie is definitely what you're looking for.  The next couple of weeks may involve a little chocolate, maybe some coconut and oats.  Definitely a little more filling, but still full of goodness.
First, a reminder of the words of warning from my previous hot smoothie post.
Don't fill your smoothie maker up with boiling liquid.  It's either going to shatter the glass (if you have a glass jug) or it's going to come wushing out with a tonne of pressure when you open the lid after whizzing things up.  Check your smoothie maker or blender can take warm or hot liquids.  The recipe calls for you to steep your cranberries, ginger and cinnamon in some of the hot water for a good few minutes, which should allow your liquid to cool.  If it's still too warm, then add a splash of cold water to the mix.  You then whizz this cranberry mixture up with a chopped apple, pour it out and then top with your remaining just boiled water.  This should result in a fairly hot smoothie.  If it's not hot enough, then you can heat in the microwave (or a pan) for 30 seconds.
I am loving that cranberry flavour, its such a nice flavour during autumn.  Here are some more of my cranberry favourites:
The Cranberry and Apple Hot Smoothie Recipe: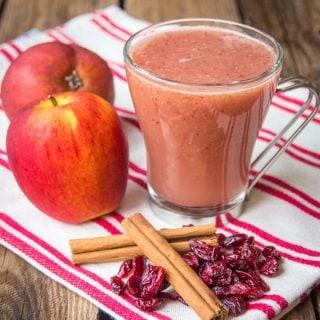 Cranberry and Apple Hot Smoothie
Cranberry and Apple hot smoothie - a quick and healthy hot smoothie for a cold day
Ingredients
20

g

(2.5 tbsp.) dried cranberries

¼

tsp

cinnamon

6

g

(1cm) cubed piece of ginger

-

peeled and chopped finely

350

ml

just boiled water

1

sweet dessert apple

-

I like to use Jazz apples, chopped
INSTRUCTIONS
Place your dried cranberries, cinnamon and ginger into a cup and add 150ml of boiling water. Give it a stir and leave to steep for 7-8 minutes.

Place the cranberry mix and the chopped apple in your smoothie maker. Add in a splash of cold water if you think the liquid is too warm (see warning above about hot liquids and smoothie makers).

Blend on high for a minute or two until the cranberries and ginger have been incorporated.

Pour your smoothie into a cup and mix in the remaining 200ml just boiled water.

Drink as is, or you can put in the microwave for 30 seconds to heat a little more if required.
✎ Notes
Nutritional Information is per serving.
Nutrition
Serving:
209
g
Calories:
178
kcal
Carbohydrates:
46.3
g
Protein:
0.6
g
Fat:
0.4
g
Sodium:
4
mg
Potassium:
286
mg
Fiber:
6.6
g
Sugar:
32.1
g
Vitamin C:
19.8
mg
Calcium:
10
mg
Iron:
1.6
mg
<
p style="text-align: center;"> Nutritional info obtained from caloriecount.about.com