This Mulled Cranberry Jelly is the perfect way to serve Christmas on toast. It's made with cranberries, apples, spices, a little red wine and orange & lime zest.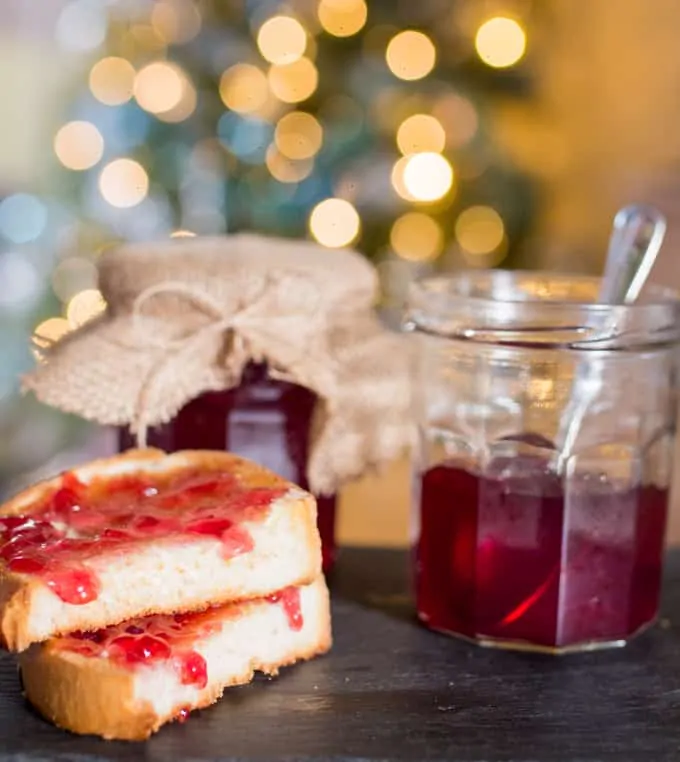 I'm not kidding when I tell you I almost drink this stuff straight from the ladle.  Getting it to the jam stage takes some serious self control!
I made this last year and had to make it again this year.  In fact it was the very first recipe I put on the blog back in January.  Unfortunately that was a little late for Xmas, so I thought i'd repost and add a photo.
I have to say, I'm not loving the photo though.  Jam is hard to photograph!
I thought I'd get my twinkly xmas lights in the background, but when I look at the picture, I kind of feel I've been whacked on the head and the lights are a symptom of my concussion.
This was the second photo shoot too.  That jam jar was full yesterday!
No, I haven't eaten 50 pieces of jam on toast since yesterday.  I made a large batch of mulled-cranberry-jelly-filled Xmas Duffins to share with the family and the plumbers who are in the middle of replacing our boiler.
We should have heating by Saturday yay!!
Our boiler broke about 2 months ago - just when it was beginning to get cold.  So we've been living in front of the fire since then.  My kids have been sleeping in big furry onesies - which keep them so snuggly except for their cold little noses peeping out of the bed covers.
We still had hot water (thank goodness!) until yesterday that is.
Poor Chris tried to get washed for work this morning and came back in the bedroom shivering like someone who'd been iceburg hugging.
I'm far too much of a wimp for cold showers, so I used the excuse to go to the gym and use their shower after a duffin busting run.
I re-photo'd those duffins before they got gobbled up too - aren't they cute!
The Mulled Cranberry Jelly Recipe: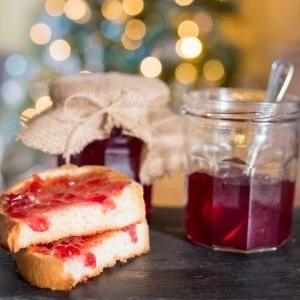 Mulled Cranberry Jelly
This Mulled Cranberry Jelly is the perfect way to serve Christmas on toast. It's made with cranberries, apples, spices, a little red wine and orange & lime zest.
Ingredients
2

large cooking apples chopped into big chunks

-

no need to peel or core

180

g

fresh cranberries

zest and juice of one orange

100

ml

red wine

300

ml

water

zest of 1 lime

Juice of half a lime

½

tsp

cinnamon

¼

tsp

dried ginger

¼

tsp

dried nutmeg

1

tsp

vanilla paste

250

g

caster sugar
INSTRUCTIONS
Put all the ingredients except the sugar into a heavy bottomed pan, bring to a gentle simmer

Simmer for 25 mins – don't squash the fruit – it will make the jelly cloudy

Sterilize a square of muslin by giving it a good dip in some boiling water

Strain the mix through the muslin into a large bowl. If possible leave it to strain overnight and don't squeeze the fruit (this will make the jam go cloudy)

Add the strained juice to a clean pan and bring to the boil

Boil for 10 mins, skimming any scum off the surface

Add the sugar and bring back to the boil

Boil rapidly for 10 mins (skimming off any scum again) You can test the jelly at this point by pouring a little bit onto a saucer that's been chilled in the freezer, Leave for a few mins then push your finger across the surface. If it wrinkles, then it's ready. If not, boil for 5-10 minutes longer.

Take the pan off the heat, leave to settle and skim off any scum from the surface

Sterilise a jam jar by putting through a hot cycle in the dishwasher, then pour the jelly into the jar and put the lid on
✎ Notes
Keep in the fridge once opened and use within 3 months.
.
Nutritional Information is per 350g jar, approx 58 calories per tbsp.
Nutrition
Calories:
1349
kcal
Carbohydrates:
329
g
Protein:
1
g
Sodium:
28
mg
Potassium:
669
mg
Fiber:
17
g
Sugar:
298
g
Vitamin A:
305
IU
Vitamin C:
40.7
mg
Calcium:
49
mg
Iron:
1.4
mg