Panzanella Salad with Saganaki - Italy meets Greece in this juicy tomato salad with crispy fried Greek cheese.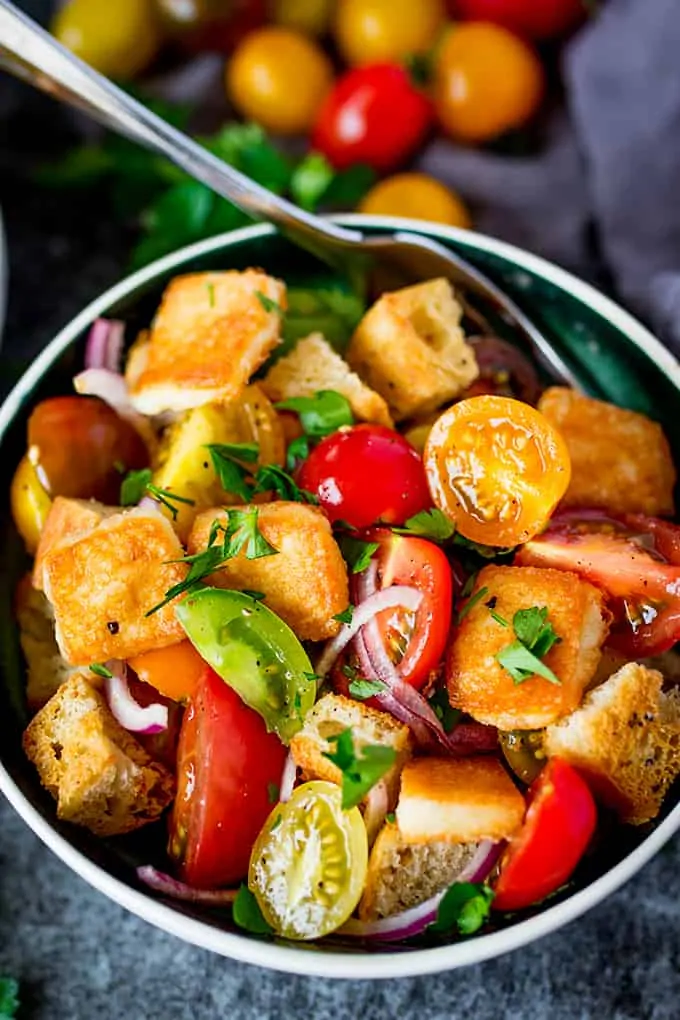 For the first time ever, I spotted saganaki cheese in the supermarket! Yay!
One of my very early memories from when Chris and I were first going out, was our trip to Rhodes in Greece. We hired a little suzuki jimny and drove around the island, taking in the sights.
I remember seeing an old lady tending to her tomato plants, then plucking a few of the large juicy tomatoes out of her bucket and squeezing the juice into her mouth for a bit of refreshment on a sweltering day.
We fed the scraggly little kittens at the harbour just outside of Rhodes old town.
We walked up the steps to the acropolis in Lindos and we drove to little market stalls that sold a very, very strong boozy honey spirit.
....and then we ate that beautifully simple dish of fried saganaki with a sprinkle of lemon juice, whilst sitting in a tiny little shabby cafe that smelled of chips.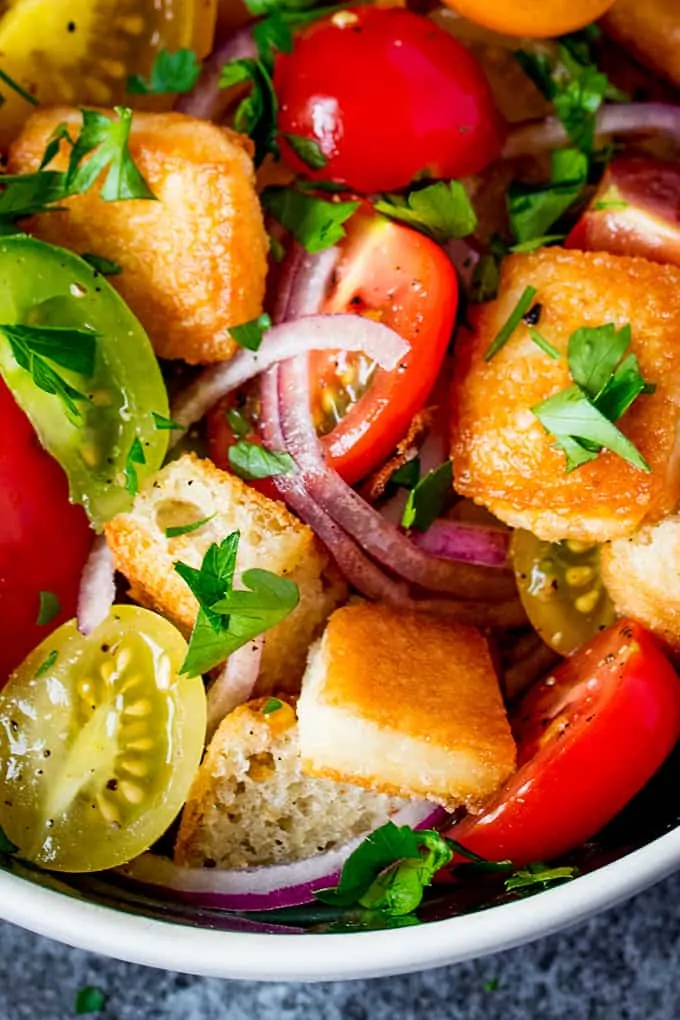 Blissful memories.
I can still remember the taste of the saganaki, and I've thought about making it at home so many times over the years.
Unfortunately, no matter where I shopped, I just couldn't find the right cheese.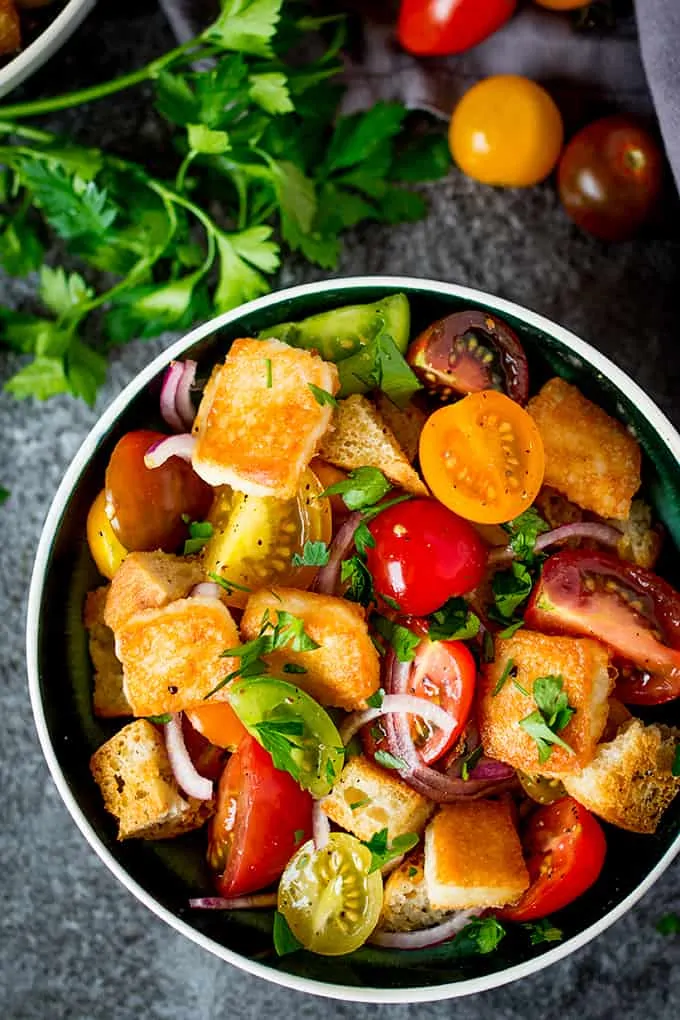 I've heard suggestions from people to use halloumi, and although I love fried halloumi (erm halloumi burgers? yesss!), it's just not right for saganaki.
The cheese needs to be one that has a high melting point, but still softens during cooking, whilst going crispy on the outside. It needs to retain its shape, but still be smooth and a little chewy. It also needs to be salty.
I finally found Kafalotyri cheese in Ocado, and the feeling was akin to that feeling when you put on your too-tight jeans and they fit perfectly.
(Although it you eat too much of this stuff that ain't gonna happen!)
When I found it, I was reminded of that little old lady with her tomatoes, and it just felt like the perfect combination. A juicy tomato and bread salad with chunks of salty saganaki.
Yum x 1 million.
The Panzanella Salad with Saganaki Recipe: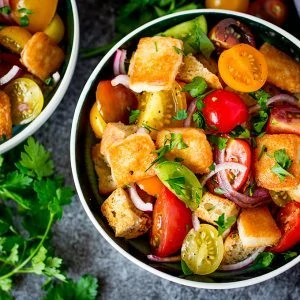 Panzanella Salad with Saganaki
Panzanella Salad with Saganaki - Italy meets Greece in this juicy Tuscan tomato salad with crispy fried Greek cheese.
Ingredients
400

g

mixed colour tomatoes – take out of the fridge for an hour to come up to room temperature for maximum flavour.

Large pinch of freshly ground salt and pepper

3

tbsp

olive oil

4

slices

of ciabatta bread

-

cut into cubes

200

g

Kefalotyri* Greek cheese, sliced into 1-inch squares

2

tbsp

plain/all-purpose flour

½

tsp

lemon juice

¼

red onion

-

peeled and very thinly sliced

1

tbsp

chopped parsley

Dressing:

2

tbsp

olive oil

1

tbsp

red wine vinegar

½

tsp

caster sugar

½

a clove of garlic

-

peeled and minced
INSTRUCTIONS
Chop the tomatoes and mix with the salt and pepper – leave for 10-15 minutes to release their juices.

Heat 2 tbsp of the olive oil in a frying pan, and place the bread cubes in. Sprinkle with a pinch of salt and pepper and toast each side for 2-3 minutes until golden brown. Remove from the pan and turn off the heat.

Mix the dressing ingredients together in a small jug.

Place the toasted ciabatta chunks in a serving bowl. Mix in the tomatoes – juices as well. Drizzle on half of the dressing and toss to ensure the bread mixes with the dressing. Leave for 10 minutes to allow the flavours to develop and for the bread to soak up the liquid.

Put the pan back on the heat again and add the remaining oil. Heat until hot. Dredge the Kefalotyri chunks in the flour, then place in the hot pan. Fry, turning once for 3-4 minutes, until golden brown. Turn off the heat and sprinkle on the lemon juice. Add the cheese to the salad.

Top the salad with slices of red onion. Sprinkle with parsley before serving.
✎ Notes
* You can use graviera, kefalograviera or kasseri cheese if you can't find kefalotyri. Use halloumi if you're really struggling to find any of those.
.
Nutritional Information is per serving.
Nutrition
Calories:
552
kcal
Carbohydrates:
28
g
Protein:
19
g
Fat:
40
g
Saturated Fat:
14
g
Sodium:
991
mg
Potassium:
329
mg
Fiber:
2
g
Sugar:
4
g
Vitamin A:
1215
IU
Vitamin C:
21
mg
Calcium:
680
mg
Iron:
0.8
mg