Caramel stuffed Nutella Blondies - Completely indulgent, these chocolate caramel blondies with swirls of Nutella hit the spot like nothing else!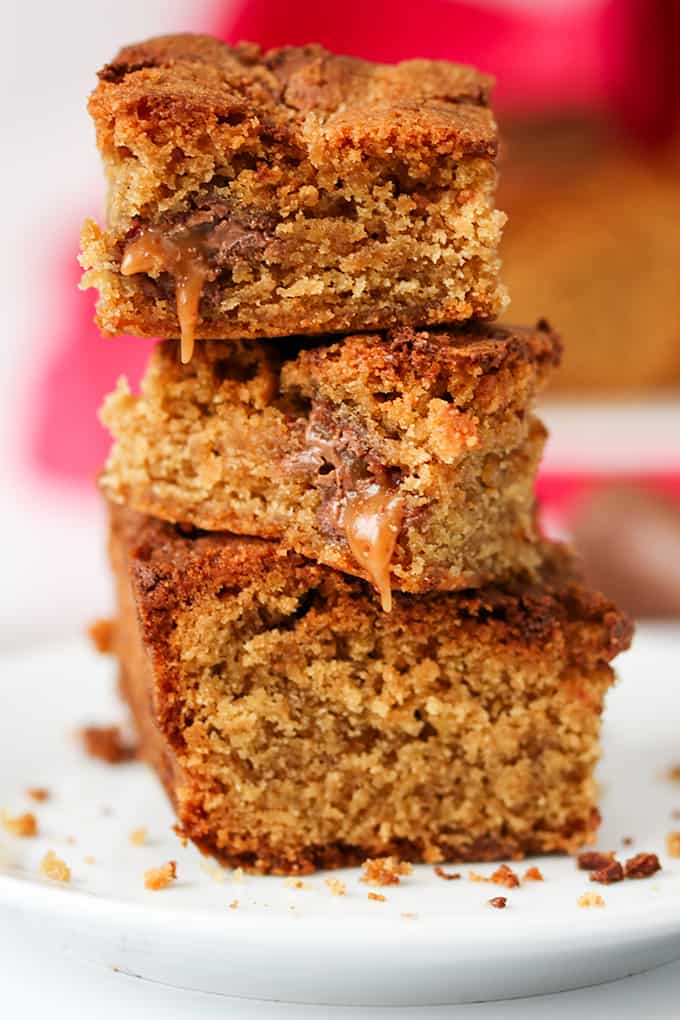 Galaxy Caramel chunks and Nutella.
Do other people look at those ingredients and thing 'hmmm they need cake to bring them together'.
Or is that just the way my really greedy brain works?
These blondies are the kind of cake you need when you've had a bad day.
Or maybe it just needs to be a bit cold and wet outside, and you want something to go with that pot of tea. Something that makes you glad it's raining, and you've just eaten one,
and there are still 11 pieces left.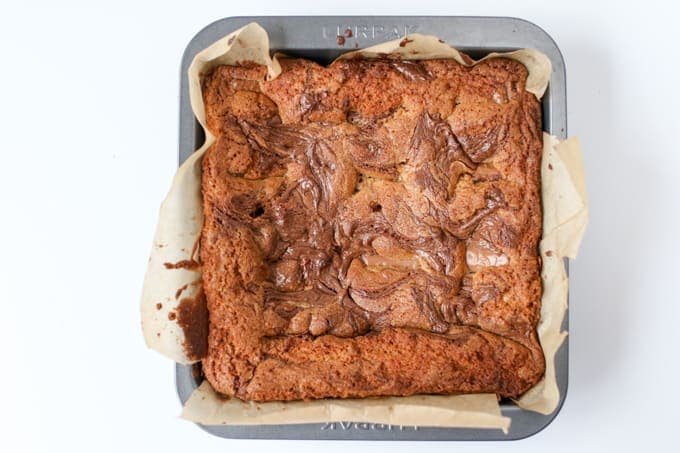 To be perfectly honest, I don't think these blondies need a reason to exist. I'm just making excuses so I can make them again!
Well it's half term at the moment. My kids spent most of their day in pyjamas playing video games whilst sampling various bits of recipes I've been making today.
I've been trying to cook and photograph most of my recipes (for Kitchen Sanctuary and the other sites I write for) over 2 days recently. All in the hope I can write them up during the remaining 3 days of the week. I've got a feeling it's not going to work out like that this week!
We prepped them for a lazy day today by taking them out on a big adventure walk yesterday:
We all look pretty clean there, but we were filthy by the time we go back home! I expected the kids to sleep in this morning, but they were up before 7am, so I guess I'm going to have to think of a few things to wear them out this week!
We could have done with some of these Caramel stuffed Nutella Blondies when we got back home, but by the time we got back we just wanted to flake out for a bit. Once the kids were in bed, Chris and I cooked the most amazing steak stroganoff together for our valentines day dinner. We must have looked so romantic, eating our stroganoff at the breakfast bar in our sweatpants cos we were too tired to bother dressing up 🙂
Just look at that inner gooeness! It's no wonder they barely lasted a day before the cake tin was empty.......
The Caramel stuffed Nutella Blondies Recipe: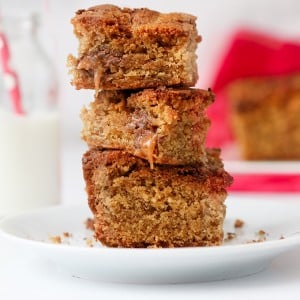 Caramel-stuffed Nutella-swirl Blondies
Caramel stuffed Nutella Blondies - Completely indulgent, these chocolate caramel blondies with swirls of Nutella hit the spot like nothing else!
Ingredients
240

g

butter, softened

300

g

light brown sugar

2

large eggs

1 ½

tsp

vanilla extract

250

g

plain (all-purpose) flour

1 ½

tsp

baking powder

12

chunks of Galaxy Caramel from a large bar - freeze them first to help prevent them completely melting into the cake during cooking*

4

tbsp.

Nutella
INSTRUCTIONS
Preheat the oven to 170c/325f. Line a 20cmx20cm baking tin with baking parchment.

Cream the butter and sugar together, add in the egg and vanilla extract and stir until combined. Add in the flour and baking powder and thoroughly mix.

Spoon the mixture into the prepared baking tin (it should be a thick mixture). Spread it out so it reaches the edges.

Arrange the chunks of chocolate caramel on top of the blondie mixture, push them in a little with your finger.

Spoon the Nutella onto the mix in about 10 blobs. Use a cocktail stick or a knife to give the Nutella a bit of a swirl around. Place in the oven and cook for 35-45 mins - until an inserted skewer comes out clean. Place some foil on top after 25 minutes if the top starts to look too brown.

Remove from the oven, leave to cool in the tin for a couple of minutes before removing from the tin and placing on a cooling rack to cool further. Remove baking parchment and slice before serving.
✎ Notes
* You could also use Cadbury caramel chunks or any other soft-caramel filled chocolates.
.
Nutritional Information is per serving.
Nutrition
Calories:
381
kcal
Carbohydrates:
47
g
Protein:
3
g
Fat:
19
g
Saturated Fat:
12
g
Cholesterol:
71
mg
Sodium:
174
mg
Potassium:
164
mg
Sugar:
30
g
Vitamin A:
545
IU
Calcium:
74
mg
Iron:
1.6
mg