Piled High Chicken and Vegetable soup – A delicious and healthy soup made using the leftover chicken from your roast dinner.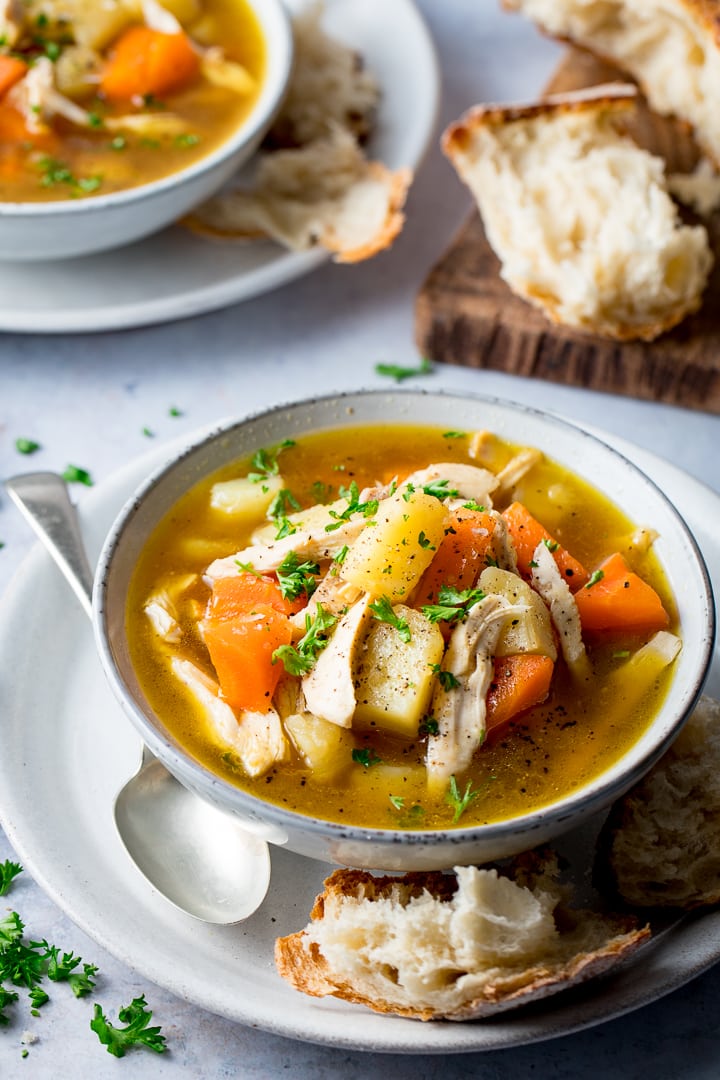 This Chicken and Vegetable soup is the epitome of comfort.
Usually I associate comfort food with recipes that are rich & creamy or sweet & gooey, but this soup hits the spot without all the naughty stuff.
I'm back to boiling up chicken bones again.  It's a thing.  I can't throw chicken bones away.
I always have at least a few bags of homemade chicken stock or a leftover chicken carcass in the freezer.
If you're short on time and you don't want to start boiling up stock after you've just had a roast chicken, then simply pull every last piece of meat off the bones (make sure you turn the chicken over, there are lots of little shreds of meat under there).  Then wrap up the meat in foil.  Place the chicken carcass in a bag with the wrapped up meat and freeze until you've got a little more time.  No need to defrost before you boil it all up later on.
I've been eating this soup since I was a kid.  My mum also makes a huge batch from the leftover turkey at Christmas.
I remember coming home from nightclubs rather worse for wear in my late teens (the drinking age is 18 in the UK) and my mum heating up a bowl for me so I didn't burn the house down whilst trying to heat it up myself!
I craved it so much when I was pregnant with Gracey too.  I was roasting chicken late at night, just so I could make this soup!
I always use carrots and potatoes as my base veg, but after that you can add anything you like – broccoli, peas, cauliflower, kale, squash.  It all works.
One small chicken carcass will make enough soup for 2 people.  If you want to stretch it 3 people, you'll need to add in a couple of stock cubes too.
One large chicken carcass should make enough soup for 3-4 people (again add a stock cube or two to stretch it out further).

The Piled High Chicken and Vegetable Soup Recipe:
Piled High Chicken and Vegetable Soup
Chicken and Vegetable soup - A delicious and healthy soup made using the leftover chicken from your roast dinner.
Print
Rate
Pin The Recipe For Later
Total Time:
2
hrs
40
mins
Ingredients
1

leftover cooked chicken carcass

with a bit of the meat still on

Cold water

1

onion

chopped into quarters (no need to peel)

1

bay leaf

3

carrots

1

large potato

peeled and chopped into bite-size chunks

1/4

tsp

each of salt and pepper

1

tsp

fresh chopped parsley
Instructions
Place your leftover chicken carcass on a chopping board and pull off any meat you can find on it (pay special attention to the wings and underside of the chicken where you'll find some good pieces). Place the pieces on plate, cover with clingfilm and refrigerate for later.

Place all the leftover bones and skin from the carcass in a large pan, completely cover it with cold water, so the water comes about 1 inch above the chicken.

Place the onion, bay leaf and 1 carrot (no need to peel or chop) in the water with the chicken. Bring to the boil, then turn down the heat and simmer for 2-3 hours until the water has reduced by at least half.

After 2-3 hours, place a sieve over a large bowl. Strain the chicken and veg and leave for a couple of minutes so that all the juices drip into the bowl. Pour the juices back into the pan*.

Peel and chop the remaining two carrots and place in the pan with the stock. Add in the chopped potato and a salt & pepper. Bring back to the boil, and simmer gently for 20 minutes until the vegetables are soft and tender. Add in the chicken pieces from the fridge for the last 5 minutes to heat through.

Ladle into two bowls and serve, topped with the chopped parsley.
Recipe Notes
*If you find that you don't have much liquid left after boiling up the carcass, you can add in a bit more water. Give the stock a taste, and if it still has lots of flavour then leave as is. If you think that the water has watered-down the flavour too much, you can add in a stock cube (or some bouillon for gluten free).
This soup can be cooled, covered and frozen. Then defrost and reheat thoroughly when required.
.
Nutritional Information is per serving.
Nutritional Information
Nutrition Facts
Piled High Chicken and Vegetable Soup
Amount Per Serving
Calories 154
Calories from Fat 18
% Daily Value*
Fat 2g3%
Cholesterol 11mg4%
Sodium 86mg4%
Potassium 844mg24%
Carbohydrates 27g9%
Protein 7g14%
Vitamin A 15285IU306%
Vitamin C 21.6mg26%
Calcium 75mg8%
Iron 4mg22%
* Percent Daily Values are based on a 2000 calorie diet.