This Creamy Chicken and Vegetable Soup uses milk instead of cream for a lighter dinner!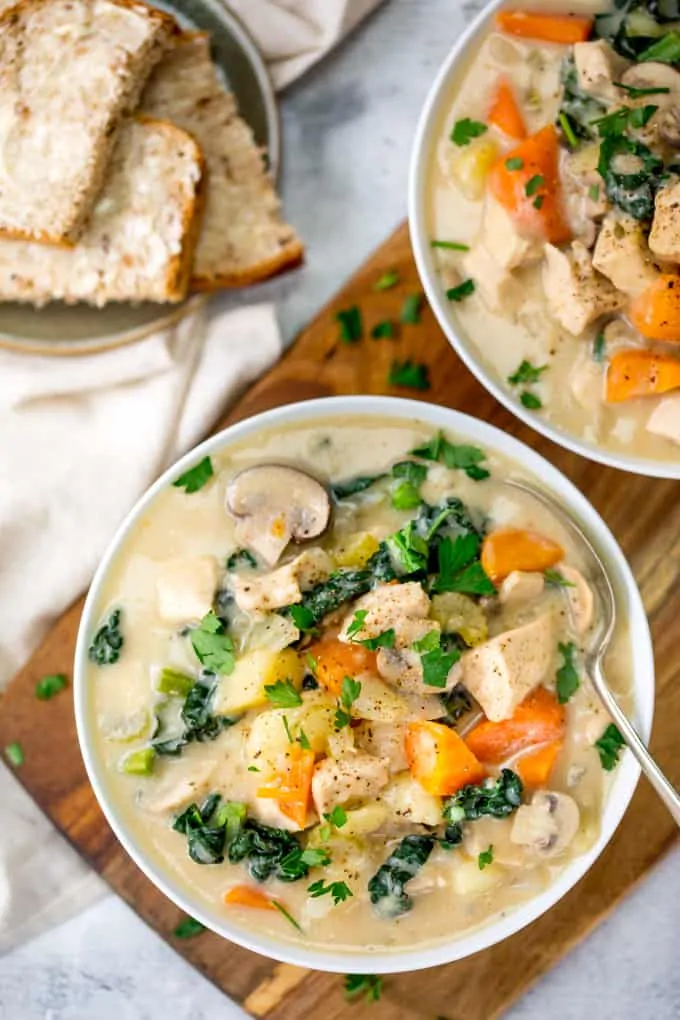 January is soup-month like no other!
I'm trying to get better at keeping up with seasonal/holiday trends this year. In the past I've been known to just about get a couple of recipes out, right at the last minute. That or forget entirely.
Not because I hadn't thought about it, but more because I'd either thought about it too late, or had already filled up my schedule with other stuff I wanted to make (often off-season recipes that I was craving).
Since Chris has been working with me, he's helped to really get me thinking about planning ahead.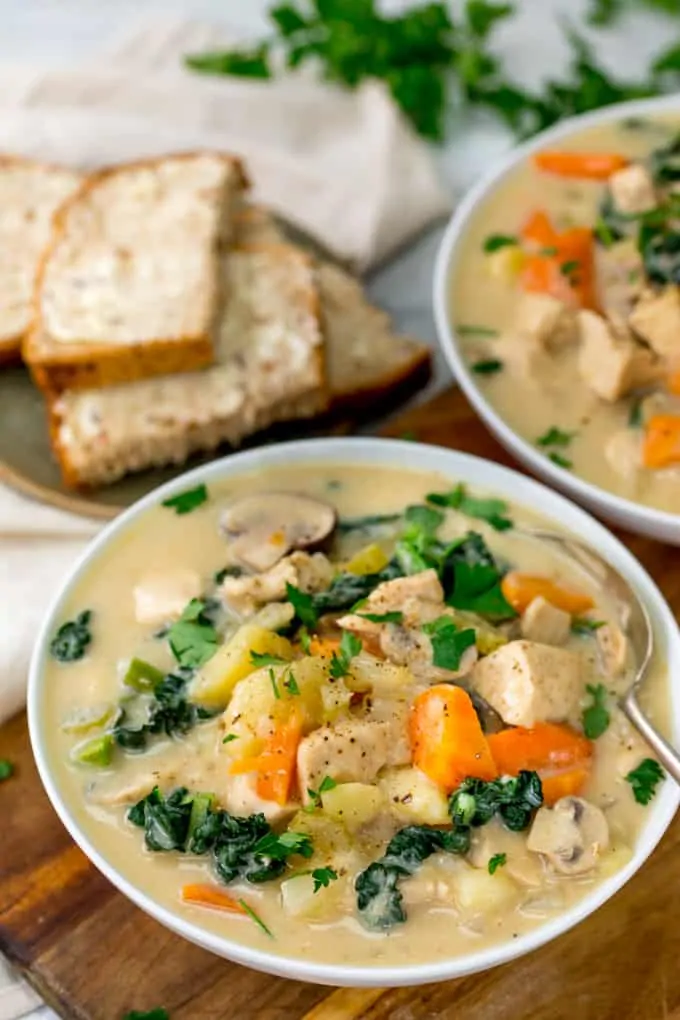 I can't deny, I was a little disgruntled at first. After all, planning is my thang ????????
I've always worked out basic yearly targets, then split those down into monthly targets, and then I've planned my weekly plan in with absolute precision (check out my post on Living the Blog about how I plan my weekly blogging timetable). It's good, it's fun (well, if you like planning this is ????) and it works!
However, Chris is like Nicky-the-crazy-organised-planner Mark II (or maybe even Mark M! That's 1000 in Roman numerals btw. I had to look that up.)
He was cracking the whip, making sure I planned in three, four or even five pieces of Halloween/Thanksgiving/Christmas content in plenty of time for you guys. Which, as it turned out, was good for me too. And once it was published, I felt enormous satisfaction that I was making useful content.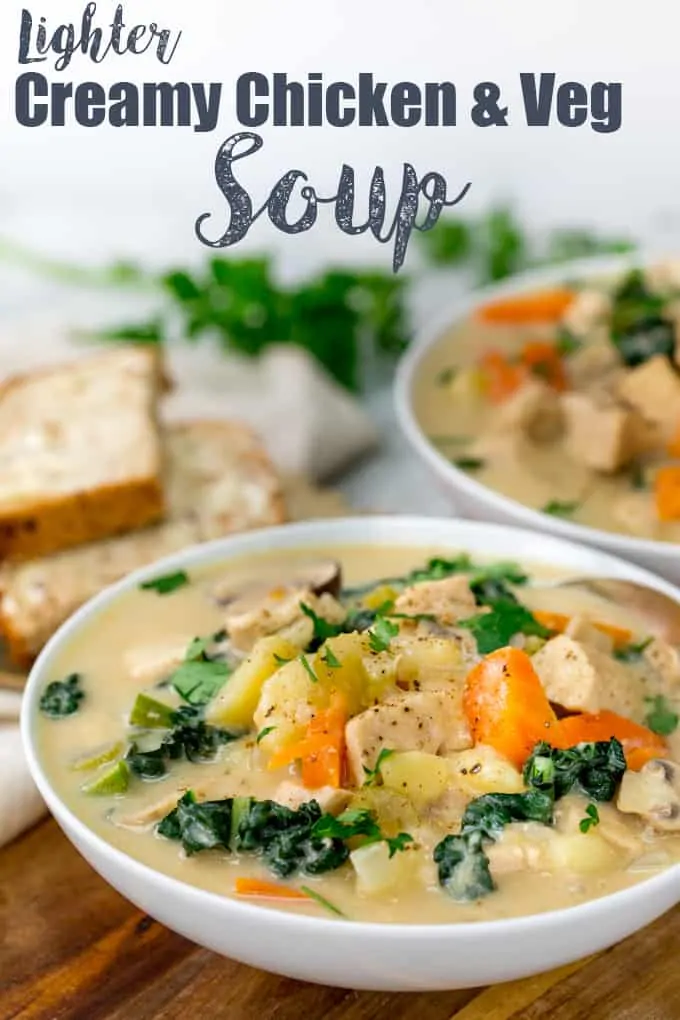 So I've no doubt I'll be planning more seasonally-correct meals this year, but much like my diet, I'm sure there'll be blips along the way (I'm trying my best not to publish my nougat cookies so close to Christmas, when everyone is being good. I'll hold out for as long as I can!).
In the meantime, I've got more soups, curries and a few Chinese New Year recipes coming up soon!
Creamy Chicken and Vegetable Soup Recipe:
Creamy Chicken and Vegetable Soup
This Creamy Chicken and Vegetable Soup uses milk instead of cream for a lighter dinner!
Ingredients
3

chicken breasts,

-

chopped into bitesize chunks

3

carrots,

-

peeled and roughly chopped

3

potatoes,

-

peeled and roughly chopped

2

celery sticks,

-

sliced

150

g

mushrooms

-

sliced

pinch

of salt and pepper

1

tsp

dried thyme

850

ml

chicken stock

3.5

tbsp

butter

1

large onion,

-

peeled and finely chopped

6

tbsp

plain (all purpose) flour

300

ml

semi-skimmed milk

1

tbsp

lemon juice

130

g

sliced kale

2

tbsp

chopped parsley
INSTRUCTIONS
Add chicken, carrots, potatoes, celery, mushroom, salt, pepper, thyme and stock to a large saucepan. Boil, then simmer for 15 minutes.

Drain and reserve the liquid stock.

Add butter and onions to a large saucepan. Cook onions for 5-6 mins on a medium heat, until softened. Add the flour and mix using a balloon whisk. Add in a ladle of the reserved stock. Stir with the whisk until smooth. Repeat until stock is used. Pour in the milk and heat whilst stirring with the whisk until the soup thickens.

Add the chicken and veggies back in. Add the kale. Heat through and add in half the lemon juice. Taste and add more lemon juice and seasoning if required. S

prinkle with parsley, then serve.
✎ Notes
Nutritional Information is per serving.
Nutrition
Calories:
515
kcal
Carbohydrates:
44
g
Protein:
47
g
Fat:
17
g
Saturated Fat:
8
g
Cholesterol:
141
mg
Sodium:
639
mg
Potassium:
1931
mg
Fiber:
6
g
Sugar:
8
g
Vitamin A:
11575
IU
Vitamin C:
69.4
mg
Calcium:
235
mg
Iron:
7.6
mg