Golden pastry stuffed with tangy cheddar cheese, tender breadcrumbs and spring onions - these tried and tested Vegetarian Sausage Rolls are a simple pastry treat for vegetarians and meat-eaters alike. Easy to prep ahead and perfect party food. Check out my video below see just how easy they are to make!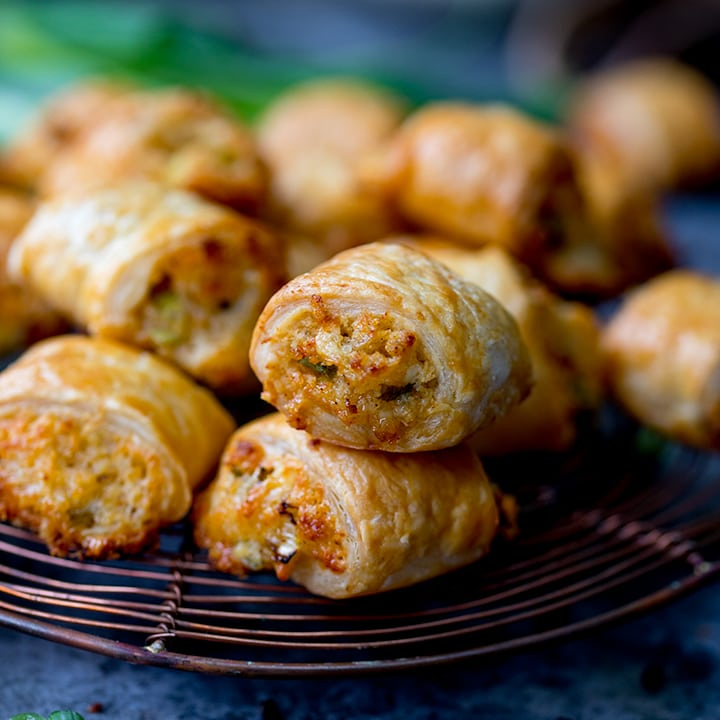 Jump to:
Who doesn't love a good sausage roll! Whether it's this amazing vegetarian option or my popular meaty tear and share recipe, my family devour sausage rolls 🙂
I believe the meat version or the meat-free sausage rolls should be quick and easy to prepare (no more than 10 mins of prep please!), yet they should still come out of the oven golden, flaky, crispy and way better then anything you'd get from the refrigerated aisle at the supermarket.
These cheese rolls totally hit the spot.
📋 What Are Vegetarian Sausage Rolls Made Of?
Not all vegetarian sausages rolls are the same. I prefer to make a homemade filling that's not trying to taste like meat, but rather stand up to the taste test on it's own merit. Mine contain a delicious mix of:
Cheese - vegetarian cheese of course, but a lot of the regular cheddar cheeses are vegetarian nowadays.
Breadcrumbs -to give stability to the mixture and to prevent the cheese just melting out of the sides in a greasy mess. The mixture will ooze out a little, but the breadcrumbs will ensure it all sticks together.
Cream - well that's for creaminess, but also to help to bind the mixture together.
Also spring onions (scallions), black pepper and paprika for flavour and colour.
So we do have a few more ingredients than the meaty sausage rolls, but we're only talking 3 or 4 minutes extra prep to make something that I'm much more comfortable calling 'home-made' 🙂
🔪 How to make this vegetarian party food
***Full recipe with detailed steps in the recipe card at the end of this post.***
Start by mixing grated/shredded cheese and breadcrumbs: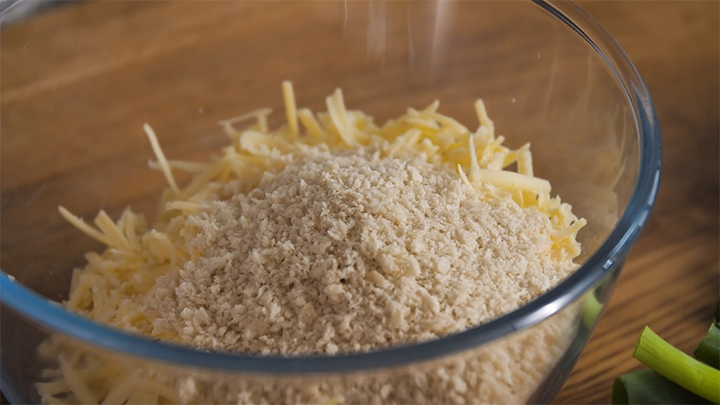 Then stir in spring onions (scallions), black pepper, paprika and a splash of cream: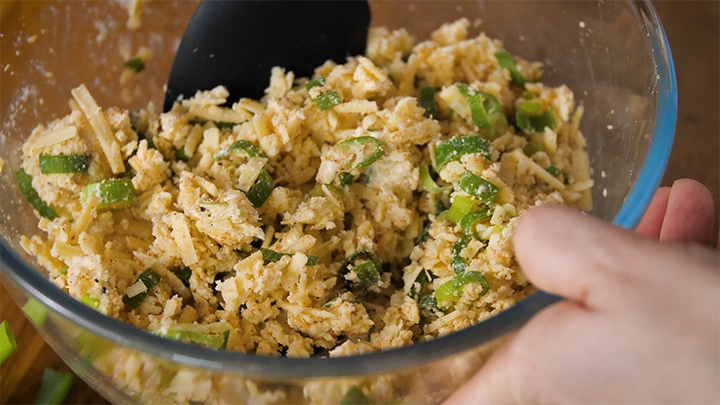 Next unroll the pastry and slice in half length ways:
Spoon in the filling and squash into a rough sausage shape:
Brush the edge with egg wash and roll up:
👩‍🍳PRO TIP Seal the seam of the pastry using a fork, so the pastry doesn't unravel in the oven: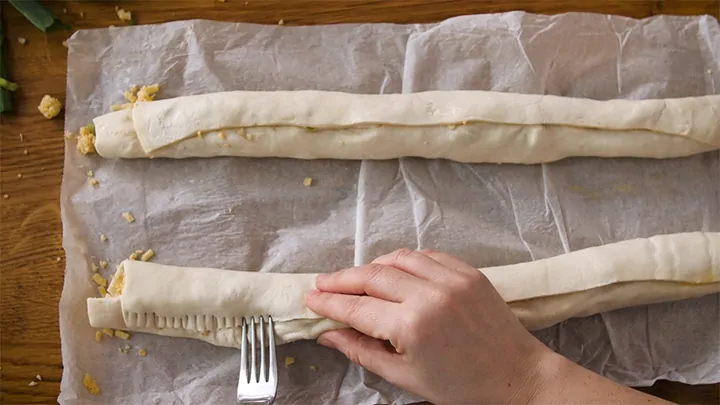 Turn the rolls over and brush with egg wash: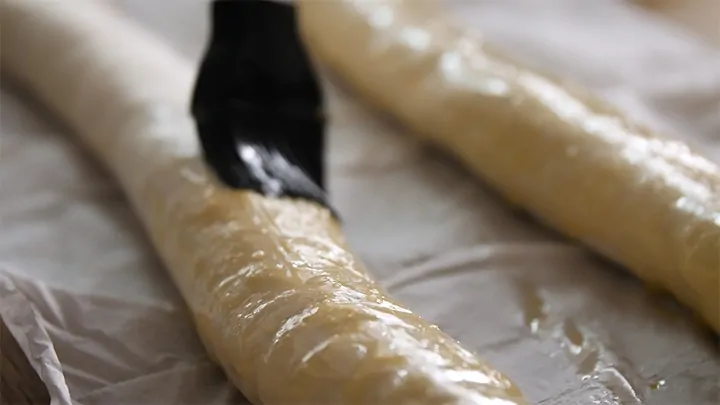 Then slice into bite-size rolls: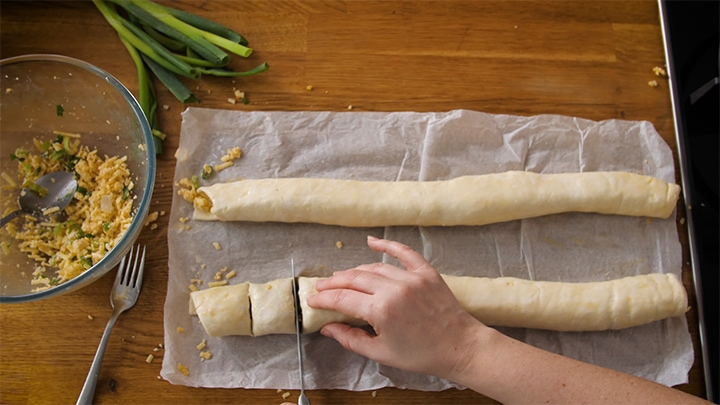 Place in the oven to cook for 12-15 minutes at 220C/425f until golden brown: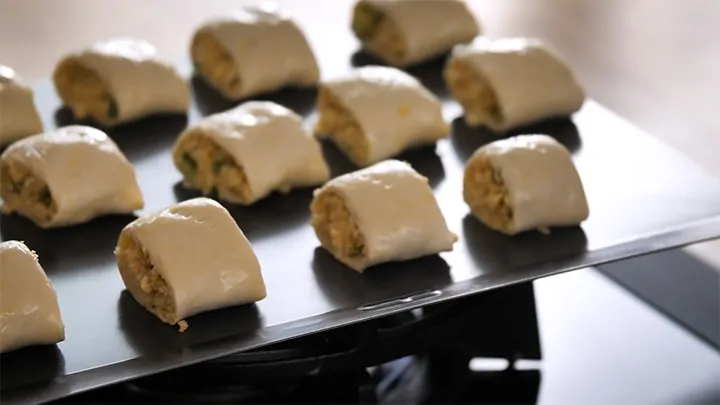 Look at that filling 😍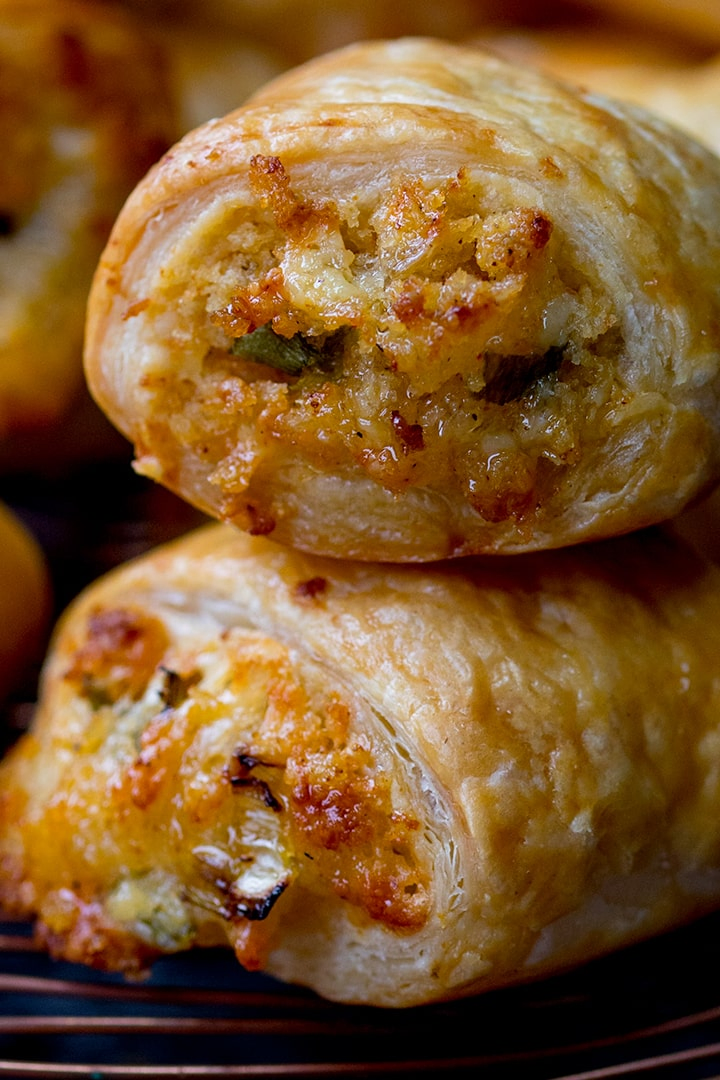 ---
As well as being a great party food, they make a great picnic food or kids lunch too.
I particularly like that these as something the kids can make themselves with minimal help - which is a lifesaver during the school holidays. Getting my ten and fourteen-year-old to make lunch (I just put the rolls in the oven when they're made -they can do the rest) is a great way to keep them entertained, and to make them feel proud of their creations.
Granted, they're not quite as neatly rolled (in fact in some cases they're more like cheese pastry sandwiches - squashed flat with little hands!), but they taste just as good!
---
📺 Watch how to make it
🍲 Some of my other favourite vegetarian party foods
Stay updated with new recipes!
Subscribe to the newsletter to hear when I post a new recipe. I'm also on YouTube (new videos every week) and Instagram (behind-the-scenes stories & beautiful food photos).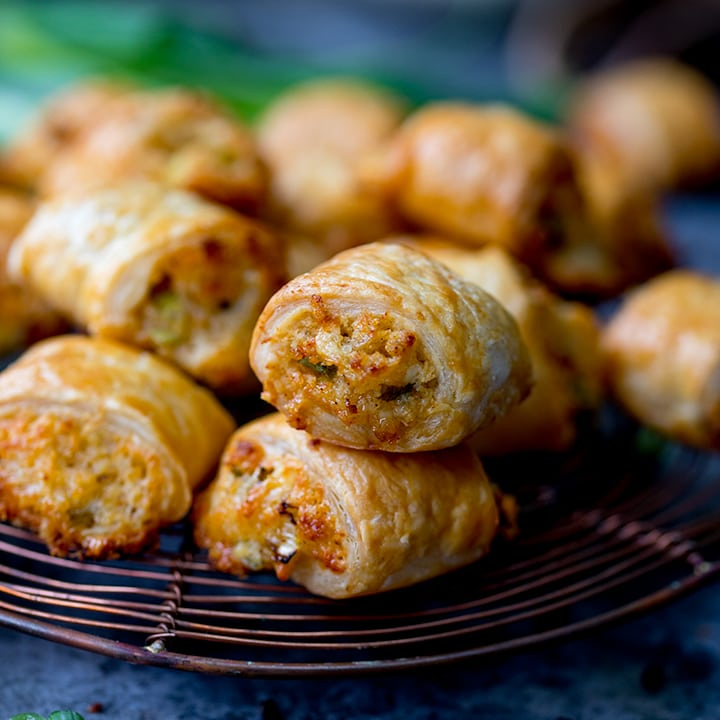 Vegetarian Sausage Rolls That Meat-Eaters Love Too!
A simple pastry treat for vegetarians and meat-eaters alike. Really easy to make at the same time as meaty sausage rolls - to keep all your guests happy.
Ingredients
1

x 320g/11.25oz pack of ready-rolled puff pastry

2

cups

(200g) grated mature cheddar cheese

1

cup

(50g) panko breadcrumbs

5

spring onions/scallions

-

chopped

2

tbsp

double/heavy cream

¼

tsp

black pepper

¼

tsp

paprika

1

egg

-

lightly whisked
INSTRUCTIONS
Preheat the oven to 220c/425f.

In a large bowl, mix together the cheese, breadcrumbs, spring onions, cream, black pepper and paprika.

Roll out the pastry and cut lengthways into two rectangles.

Divide the mixture into two and dot the mixture in a long strip long the length of each piece of pastry (so it looks like you have one long sausage in the center of each of the pastry lengths). Make sure the mixture reaches right up to the ends, using your fingers to squash it into more of a 'sausage' shape.

Brush a little of the beaten egg onto the top edge of the pastry - all along the length. Then starting from the bottom edge, roll the pastry up with the cheese mixture in the middle. Try to make sure it's quite tight. The egg you brushed on should help the pastry stick together when rolled up. Repeat with the other length of pastry.

Use a fork to squash down the seam of the rolls - so it sticks better, then turn the rolls over, so that the seam is at the bottom.

Now brush egg wash over the length of both rolls. Cut each roll into 10-12 pieces, then prick the top of each one with a fork.

Place the little rolls onto a large baking tray - making sure there's a little bit of room around each roll (as they will expand in the oven).

Then place in the oven for 12-15 minutes until golden brown.

Serve warm, or cold.
Video
✎ Notes
Can I make them ahead?
Yes, you can make them, then cool, cover and refrigerate them for up to two days. Reheat in the oven, uncovered on a tray at 150C/300F for 5-7 minutes, until piping hot throughout.
Can I freeze them?
I find they go a little dry if freezing after cooking, so it's best to freeze them uncooked.
You can make the rolls up, but don't egg wash them, then place on a tray and freeze. Once frozen, remove from a tray and place in a freezer bag so they don't get freezer burn.
Defrost in a single layer overnight in the refrigerator, then egg wash them and cook for 12-15 minutes at 220C/425F until golden brown.
Is there an alternative to egg for the egg wash?
Yes, you can replace the egg with milk. It should still brown, but you won't get the same shine as with egg wash (still tastes great through).
Nutritional information is per vegetarian 'sausage' roll.
Nutrition
Calories:
123
kcal
Carbohydrates:
7
g
Protein:
3
g
Fat:
8
g
Saturated Fat:
3
g
Cholesterol:
17
mg
Sodium:
103
mg
Potassium:
29
mg
Vitamin A:
150
IU
Vitamin C:
0.5
mg
Calcium:
69
mg
Iron:
0.6
mg
This post was first published in August 2015. Updated in November 2018 with new photos & recipe video. Updated August 2019 and November 2020 for housekeeping and added additional information and tips.
Some of the links in this post may be affiliate links – which means if you buy the product I get a small commission (at no extra cost to you). If you do buy, then thank you! That's what helps us to keep Kitchen Sanctuary running. The nutritional information provided is approximate and can vary depending on several factors. For more information please see our Terms & Conditions.