If you're looking for a meal that the whole family will demolish, this Smoky Meatball Pasta Bake from Ciara at My Fussy Eater is just the thing! I'm reviewing her new cookbook today (spoiler alert, it's awesome) and sharing the full recipe below!
If there's one thing I can guarantee in life, it's that my kids will never turn down a plate of meatballs, pasta and cheese.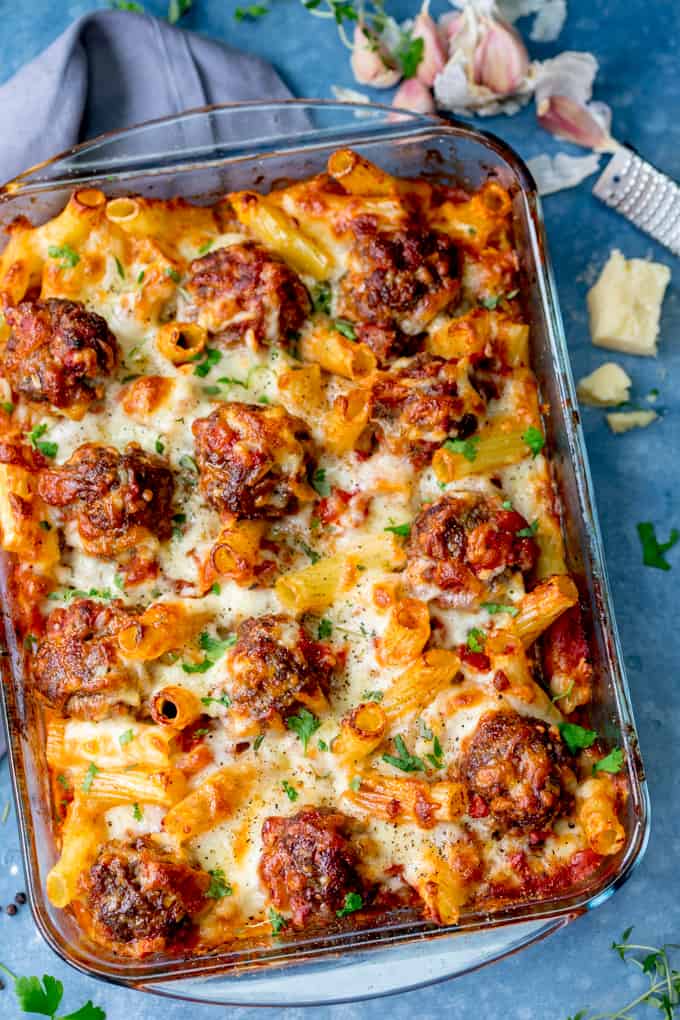 I'm pretty fortunate that my two aren't too fussy when it comes to food. They do have their moments every now and then though:
"Mushrooms?? eugh that's just fungus" nice.
"I don't like ham sandwiches, can I have hummus and crudites for lunch with those mini cucumbers I like and the rainbow coloured tomatoes?" sometimes I find those fussy comments the worst, because the swap they're asking for is actually healthier, but takes a lot more effort to make (and remember to shop for!).
"Mum has this got onions in? I don't like onions" pushing them to the side of his plate, despite the fact he's eaten thousands of meals with onions in, and this time I just didn't chop them quite as small.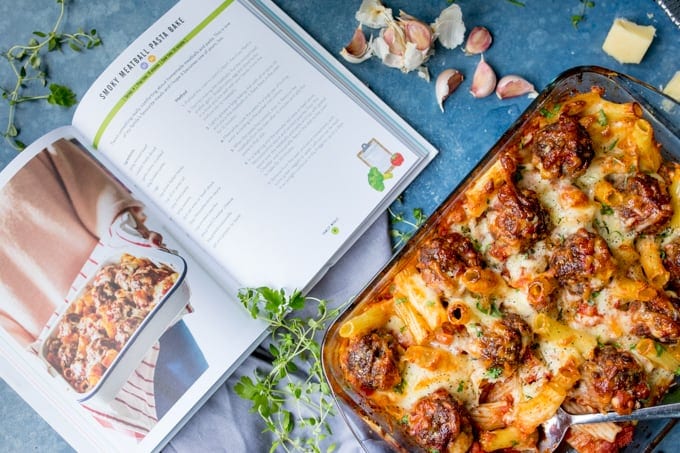 It's so disheartening when you've cooked a lovely meal and the kids don't appreciate it. Which is why I think it's useful to have some advice in your back pocket about how to deal with these situations. Not only that, but also to understand why your little one might be having a fussy moment, and to have the tools to prevent it altogether - WITHOUT cooking separate meals for the kids, catering to their whims or tastes on that particular day.
My friend Ciara from My Fussy Eater is definitely an expert in the area of fussy eating. Having two little ones of her own, she's describes in her new book My Fussy Eater (<-- affiliate link) lots of strategies for dealing with fussy eaters.
She starts off explaining some of the normal behaviour that any parent can expect to see regarding food (toddlers exerting their independence through making food choices, children's perfectly normal wariness around new foods - which is different from adults excitement and anticipation around trying something new).
She then continues with actionable steps, including taking things slowly, using positive language, getting the children involved in meal preparation and breaking routines. Also touching on the sometimes controversial subject of hidden veggies, and deeper seated food difficulties of children with sensory issues (Ciara's youngest is on the autism spectrum).
The book is packed with lots of delicious, family-friendly recipes covering meals, snacks, desserts and sauces. It really does have a positive vibe to it and a supportive message, with healthy swaps and nutritous meals, bursting with colours and flavour.
Plus there are meals plans too! (Love a good meal plan 😁)
Some of my favourites from the book that I'm looking forward to trying are:
Healthy strawberry lemonade
Finn's sweet potato chocolate cake
Kiddie ketchup
One-pot salmon linguine
and of course we loved this Smoky Meatball Pasta Bake!!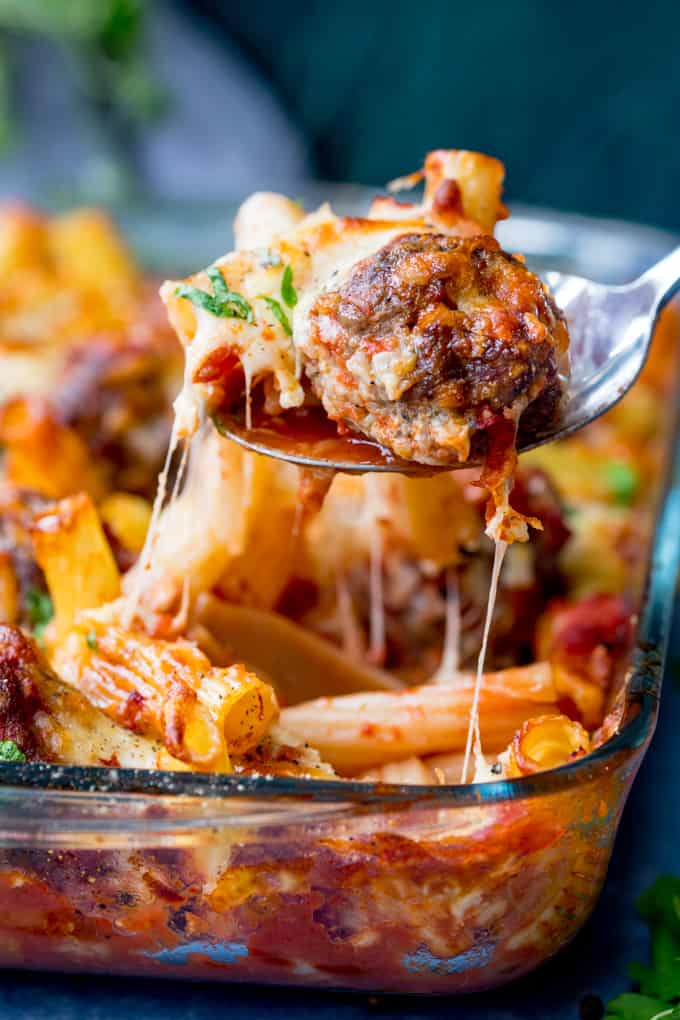 Juicy meatballs made with garlic, breadcrumbs, herbs, egg and shallots: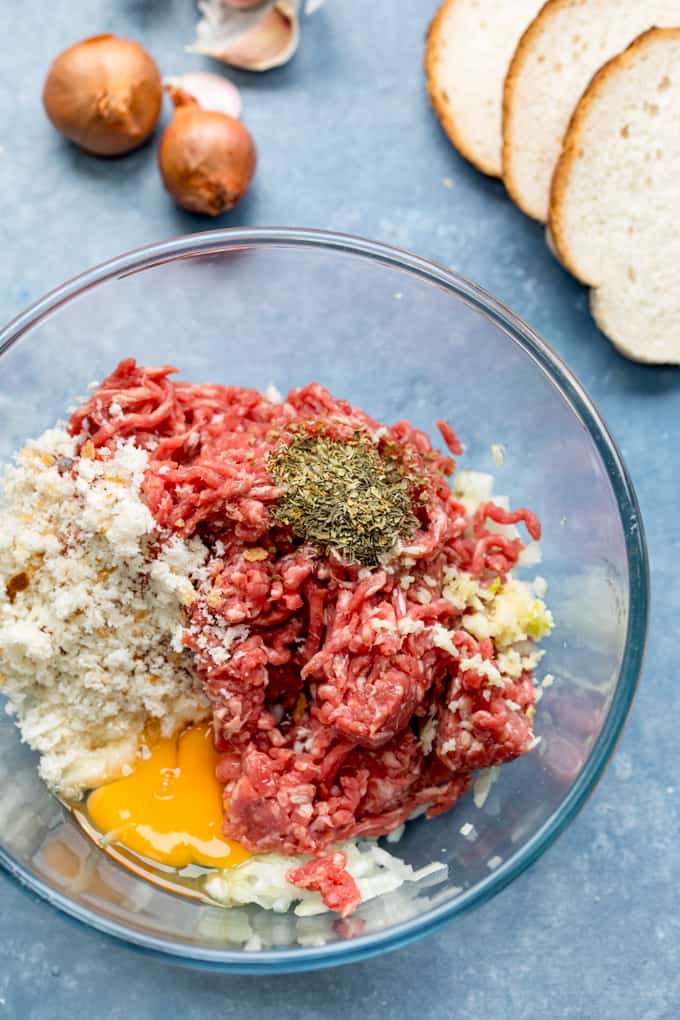 All mixed together, rolled into balls (the kids love helping with that bit) and baked in the oven.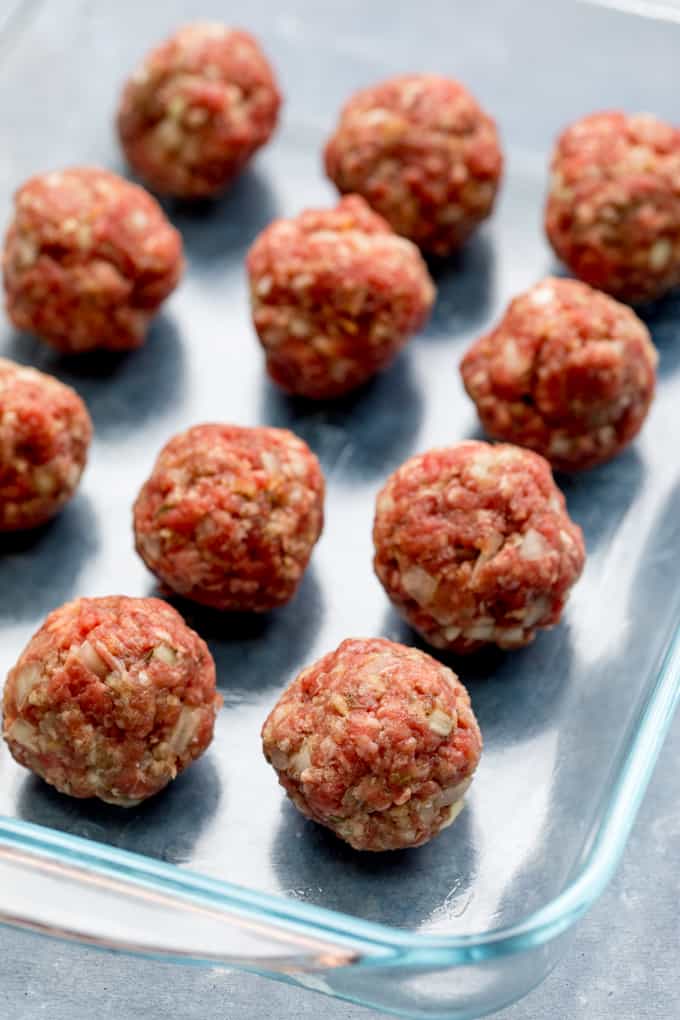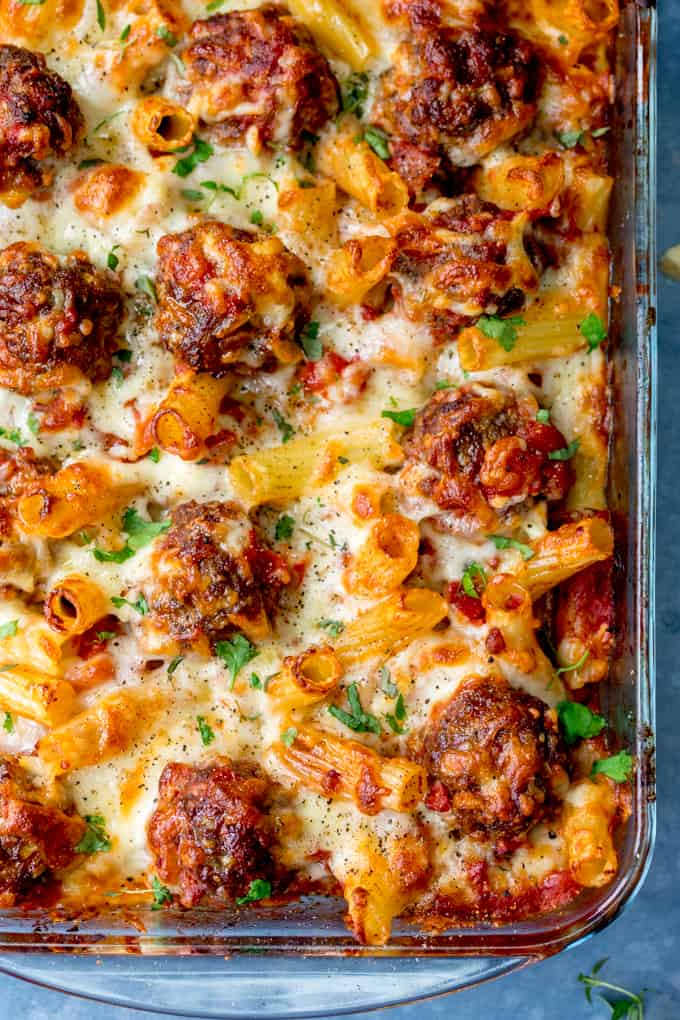 Once baked, they're topped with cooked pasta, an easy smoky sauce and a big pile of cheese, before being baked in the oven until bubbling and melty.
Plenty enough for a family of four (even five or six at a push, but we're a bit of a greedy family!!).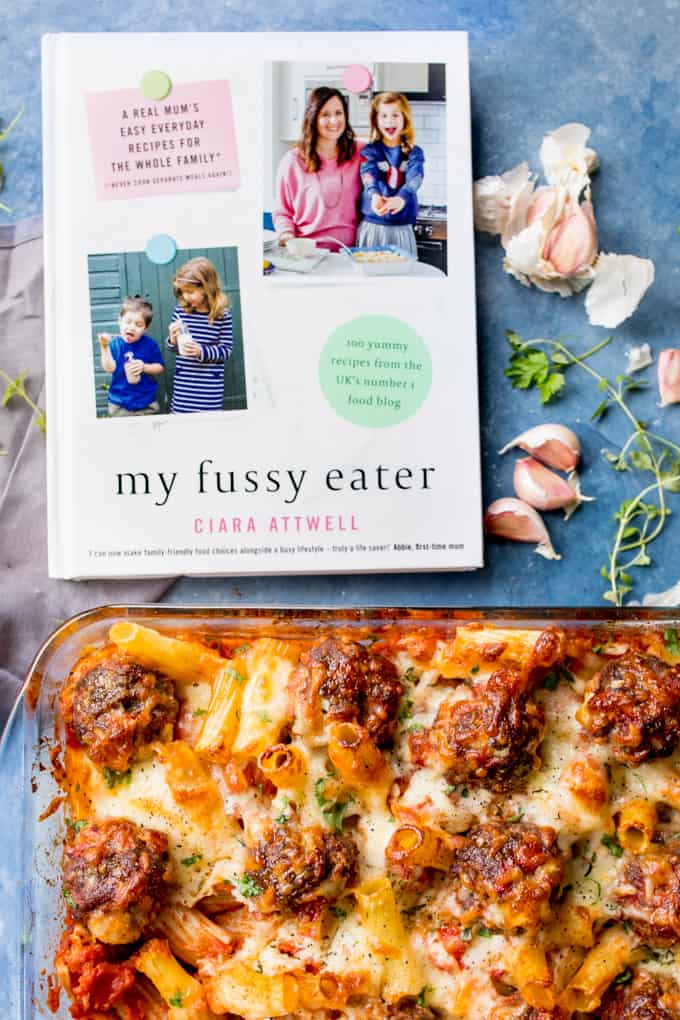 I served it up with some homemade garlic bread and it went down a storm, and I've already been asked to make it again!
Note - I was not paid for this review, but I was gifted a copy of Ciara's book. All opinions are my own.
If you like this and are craving over pasta recipes that aren't spag bol then why not take a look at this roundup of some of my favourites. Or why not try some of my other meatball recipes: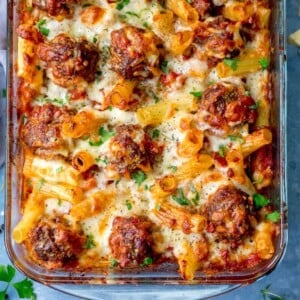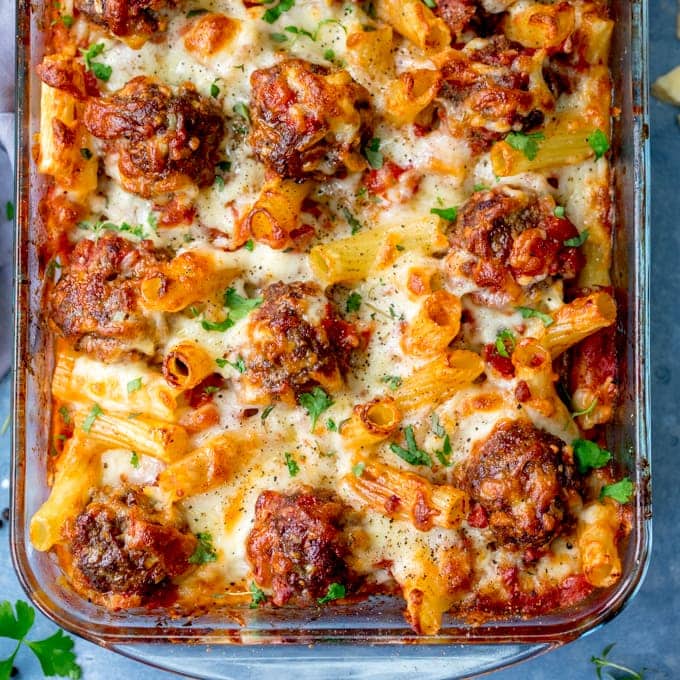 Smoky Meatball Pasta Bake
If you're looking for a meal that the whole family will demolish, this Smoky Meatball Pasta Bake is just the thing! Smoky Meatballs in a tangy tomato sauce, baked together with rigatoni pasta and topped with lots of bubbling melted cheese.
Ingredients
Meatballs:
500

g

(17.5 oz) minced beef

1

shallot

-

finely diced

1

garlic clove

-

peeled and minced

60

g

(1 cup + 1 tbsp) breadcrumbs

-

I used half fresh and half dried

1

medium egg

1

tsp

Italian dried herbs

-

I used a mixture of oregano and thyme

1

tsp

vegetable oil
Pasta:
250

g

(8.8 oz) dried pasta

-

I used rigatoni
Smoky Sauce:
400

g

(14 oz) tinned chopped tomatoes or passata

-

Ciara uses passata, but I used chopped tomatoes in mine as that's what I had in

75

ml

(⅓ cup minus 1 tsp) beef stock

-

Ciara gives the option of using red wine or beef stock

1

tbsp

Worcestershire sauce

1

tsp

smoked paprika
Also:
80

g

(¾ cup) grated Cheddar cheese

-

Ciara uses 40g, but we like lots of cheese

30

g

(¼ cup + 1 tsp) grated mozzarella

salt and pepper to taste

chopped parsley to garnish
INSTRUCTIONS
Preheat the oven to 200C/400F (fan).

Start by making the meatballs. Place the minced beef, shallot, garlic, breadcrumbs, egg, dried herbs and a pinch of salt and pepper in a bowl and mix together to combine.

500 g (17.5 oz) minced beef,

1 shallot,

1 garlic clove,

60 g (1 cup + 1 tbsp) breadcrumbs,

1 medium egg,

1 tsp Italian dried herbs,

salt and pepper to taste

Lightly grease a large baking dish with the vegetable oil, then form the mince mixture into 12 meatballs (about the size of a golf ball). Place in the prepared baking dish.

Place the meatballs in the oven and cook for 15 minutes until browned.

Meanwhile, cook the pasta according to the pack instructions (usually boil in plenty of water for approx 12-14 minutes). Drain the pasta once cooked.

250 g (8.8 oz) dried pasta

Make the smoky sauce by mixing the tinned tomatoes/passata, beef stock, Worcestershire sauce, paprika and a pinch of salt and pepper together in a jug or bowl.

400 g (14 oz) tinned chopped tomatoes or passata,

75 ml (⅓ cup minus 1 tsp) beef stock,

1 tbsp Worcestershire sauce,

1 tsp smoked paprika,

salt and pepper to taste

Remove the meatballs from the oven. Nestle the cooked pasta in between the meatballs (I like to leave some bits of pasta sticking up to get a few crunchy bits) and pour over the sauce.

Sprinkle on the cheddar and mozzarella and place bake in the oven for 10 minutes until the cheese has melted and started bubbling.

80 g (¾ cup) grated Cheddar cheese,

30 g (¼ cup + 1 tsp) grated mozzarella

Top with a little freshly chopped parsley and serve with green veggies or salad.

chopped parsley to garnish
✎ Notes
Leftovers:
Leftovers can be kept in an airtight container in the fridge for up to two days. Cool completely before placing in the fridge.
.
Reheating:
Reheat by covering with foil and placing in the oven at 180C/350F for 15-20 minutes until piping hot throughout.
.
Freezing:
You can also cover and freeze this dish for up to 3 months. Defrost thoroughly before reheating as per above.
.
Gluten free modifications:
You can make the dish gluten free by swapping the breadcrumbs and pasta for gluten free versions. If using stock, use a gluten free stock cube or bouillon. Worcestershire sauce and passata/tinned tomatoes are usually gluten free, but check your brand.
.
Nutritional Information is per serving.
Nutrition
Calories:
635
kcal
Carbohydrates:
68
g
Protein:
47
g
Fat:
18
g
Saturated Fat:
9
g
Cholesterol:
145
mg
Sodium:
797
mg
Potassium:
995
mg
Fiber:
5
g
Sugar:
8
g
Vitamin A:
770
IU
Vitamin C:
10.5
mg
Calcium:
286
mg
Iron:
6.7
mg
Equipment:
In order to make this Smoky Meatball Pasta Bake recipe you will need:
Some of the links in this post may be affiliate links – which means if you buy the product I get a small commission (at no extra cost to you). If you do buy, then thank you! That's what helps us to keep Kitchen Sanctuary running. The nutritional information provided is approximate and can vary depending on several factors. For more information please see our Terms & Conditions.