What do you buy a foodie for Christmas? Personally I think us foodies are easy to buy for! Here are some of my favourites picks for 2017.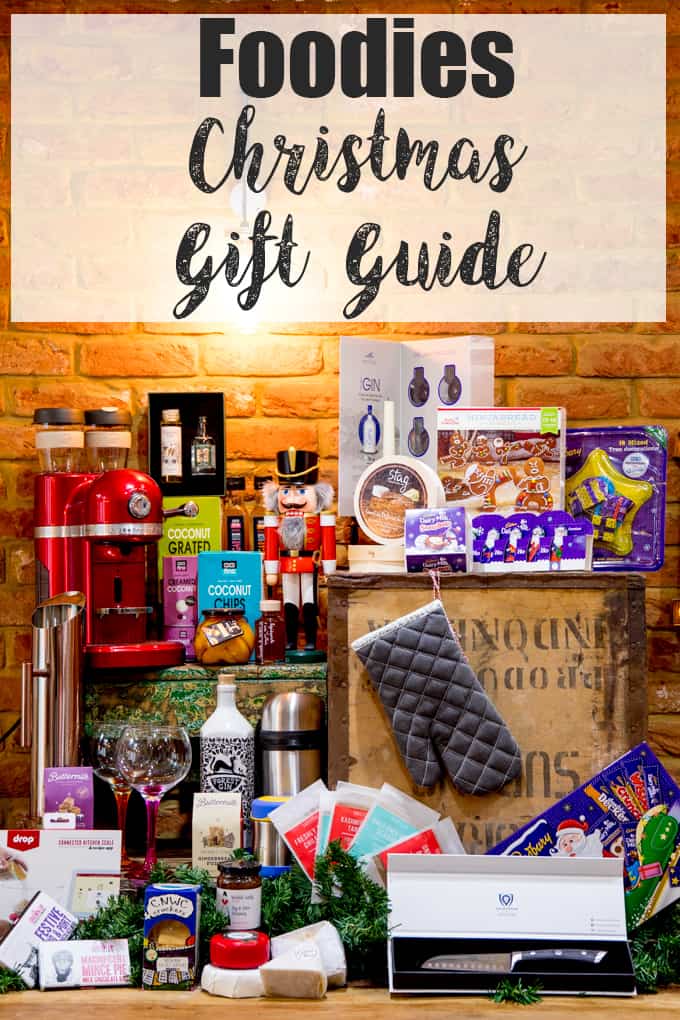 I am so behind on my Christmas shopping again!! One of these years I'll get everything done by summer so I can chill out and watch everybody else race around like crazy people for a change.
If you have a foodie in your life (or if you're a foodie yourself!) I hope this guide gives you some Christmas gift inspiration.
MY LATEST VIDEOS
All of these gifts have been chosen by me. I received some of the items free of charge for inclusion in my gift guide. All opinions are my own. This post also contains a few affiliate links – which means that if you click on them and then purchase a product I'll get a small commission (at no extra cost to you of course). If you do click through then thanks!
Distilled just up the road from us in Macclesfield, Cheshire, we nipped over to the distillery grab a bottle for our gift guide. The stone building is off a little country road at the edge of Macclesfield forest. The berries, mosses, ferns, wildflowers and bark for their multi-award winning gin are foraged from the forest just across the road. Bottled (in bespoke porcelain bottles from made by a local ceramics company!) by hand in small batches, this is a really special treat. They also do an Earl Grey version! If you're local, you can buy from their distillery or from other outlets listed on their website – including Harvey Nichols.
We got these as a gift from my sister last year and they have pride of place on our gin shelf 🙂 I have the pink, Chris has the blue, and the other two are for guests (or us if we're testing two different gins :-D). The exact ones were unavailable last time I looked here, but here's a similar version:
Oh my gosh, isn't he the cutest thing!! We got this handmade nutcracker figure from Sous Chef. He's currently residing on our mantelpiece, and what's really cool is that he actually cracks nuts! There's a lever at the back that opens and closes his mouth. Place a nut in there and get cracking!
I'm literally sat here right now eating the fig and port chocolate (sooo good). They also do a mince pie chocolate bar and a spiced ginger biscuit version too. All handmade in the UK.
If you really want to treat your loved one, try their customizable chocolate service. You choose the base chocolate (milk, white or dark), then 3 ingredients from their extensive list (I think i'd go for milk chocolate with orange bits, roasted hazelnuts and a caramel & sea salt topping – just in case anyone fancies buying me one ????). Once you've chose the flavours, you can design the wrapper too – choose one of their custom designs or upload a photo and write a special message!
A family business, going for 13 years now – they opened their first 'liquid deli' in Edinburgh in 2004. The bottle vinegars, liqueurs, spirits, oils and cordials. I love the handmade look of these bottles – which you can take back to one of their stores to refill.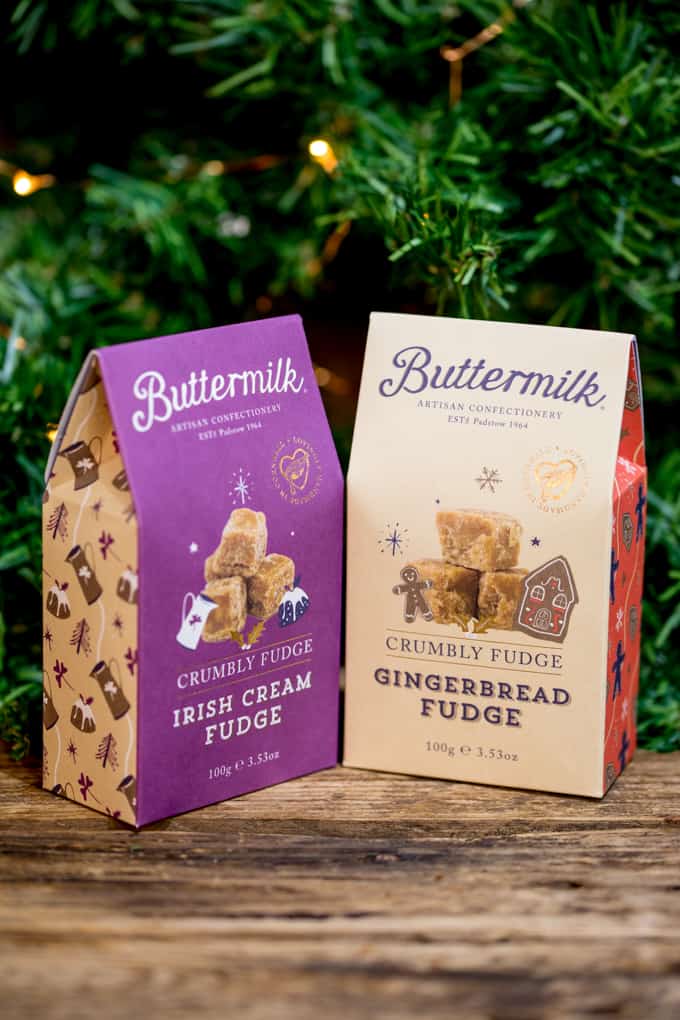 Buttermilk is a Cornish, family-run confectioner which has been producing award-winning fudge since 1964, using traditional fudge making methods and locally-sourced ingredients where possible. We tried their Crumbly Irish Cream fudge and Crumbly Gingerbread fudge which are perfectly Christmassy! They have lots more to choose from in their Christmas range (that full monty set might last me a week or so…).
A country inspired lifestyle brand, based in Somerset, Pignut produce gorgeous products for the home. From handmade embroided cushions to snuggly throws, all the way to kitchen linens and accessories. I chose this gorgeous grey oven mitt to go with my kitchen! Check them out, not only for gifts, but also for making your home feel extra cosy this Christmas.
Stag Bakeries Fruitcake for Cheese
I love the idea of a special fruitcake made to go with cheese. My grandad liked to save some Christmas cake to go with cheese (he said he served it with a fried egg on top too!!), and I think it makes such a great alternative to crackers on the Christmas cheeseboard. Chris approves too (I caught him with a mouthful not long after I'd finished photographing the gift guide!!)
For the person who loves kitchen gadgets! The drop scale wirelessly connects to your iOS or android device to help you get creative in the kitchen. Use the app to walk through the interactive recipes (which includes smart-scaling – meaning if you haven't got enough of a certain ingredient, it will adjust the whole recipe). It can also suggest ingredient substitutions.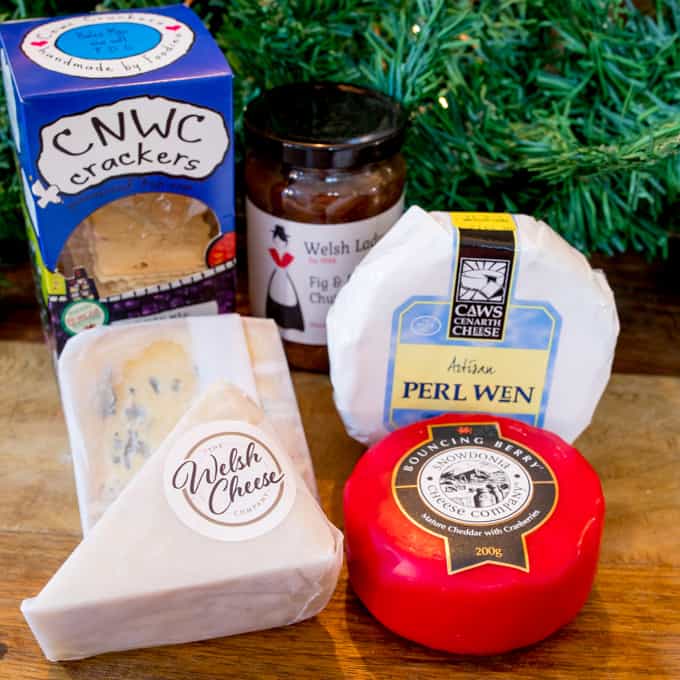 A brilliant gift for a cheese lover, you can get a one month, 3 month or 6 month subscription – each with four of their hand-picked Welsh cheeses. There are plenty of hampers and gift boxes on their site too (we got the Cheese and Accompaniments Christmas Gift Box).
Never has taking the Christmas tree down at the end of Christmas brought such joy. These gin baubles will certainly help fill you with merriment – if they're not all drunk before Christmas!!
Confession time – when Cadbury sent me some Christmas Chocolate to include, the box also had some snow bites that strangely disappeared before the shoot ????. Also, the selection box had to be replaced right before the shoot, because it was mysteriously empty. I'm not admitting anything.
It a good job they didn't send me the Ultimate Christmas Hamper. I can't control myself.
Fantastic spice mixes to inspire you to try something new in the kitchen. The subscription delivers spice kits on a quarterly basis where you'll get freshly ground seasonal spices and blends. There are also recipes online with ideas of how to use your spices. You can buy individual spices and spice sets on the website too.
A luxury ready-made dessert in a jar – I'm looking forward to eating these with a good glug of fresh cream! A tasty foodie gift!
What can I say – I LOVE my Nespresso machine. Chris and I start every day with one (I like the Rosabay De Colombia coffee, Chris likes the Capriccio).
I bought these travel mugs a few months ago so we could take our coffee with us when we're out and about. I've used lots of flasks in the past, but the coffee doesn't taste quite the same. These mugs don't insulate your coffee, but they're great when you want to take a brew out the door with you and drink it enroute. Most coffee chains will let you use them too (rather than their paper cups), so you're saving the environment at the same time as looking super stylish 🙂
I spotted one of these when Chris and I were away for our honeymoon in the Lake District and just loved how elegant it looks. I coincidentally got an email from Domu around the same time and I knew it was a sign that I NEEDED one for my Christmas table. It's beautiful, and it has a handy ice guard too, so you can serve up ice-cold drinks without the ice.
This limited edition gin from Sipsmith makes a great gift for the gin lover in your life. I love the story of Sipsmith's inspiration for this gin – apparantly gin and gingerbread was the first ever recorded alcohol and food paring! During the 1600s Londoners kept warm at the frosty Christmas market stalls by eating fiery gingerbread paired with hot gin!
Hmmm hot gin, Now there's an idea…….
Such a cute little size! The kids love having their very own flask, and this one is great for family walks or packed lunches. We use it for hot chocolate, soup and hot pasta!
One for the grown ups. When we're not using our travel mugs (because we want to keep our food/drink hot for later) Chris and I use this one. Leftover hot pasta with chicken and tomato sauce tastes like the most amazing thing ever when you've been on a 3 mile family walk and you're cold and tired! Best served whilst sat on a blanket, overlooking the Cheshire countryside!
Cocofina is certified organic vegan and vegetarian friendly coconut company. I honestly didn't realise how versatile the good old coconut was until I saw some of these Cocofina products. Flour, sugar, milk, vinegar, butter, nectar, oil……so many products. We got the Cocofina cooking pack, and I can't wait to try out the chilli coconut vinegar. You can use it in salad dressing and marinades, or to replace apple cider vinegar.
I bought this a few weeks ago. I'd had my eye on a smaller size Santoku knife for ages, and thought it would make a great addition to the gift guide. Then of course I had to wait until I'd photographed it in the main picture before I could use it!! It's brilliant by the way. Razor sharp, yet not too huge to handle for chopping up smaller veg.
I bought the 5″ version from the gladiator series – which seems to be out of stock in the UK now (although available in the US). I've included a similar knife in their Shogun series for you guys in the UK.
How cool is this Ninjabread kit!! My kids are making these this year instead of a gingerbread house. The link above is for Amazon USA, but they haven't got it on Amazon UK, so I've included a link to an alternative store for those of you in the UK: Ninjabread kit
I didn't include this in my main gift guide picture becasue I didn't have it then. This gorgeous piece of machinery arrived this morning (so exctied!!). It looks amazing next to my matching Nespresso coffee machine. I've had my eye on one for ages, but my old mixer still just about worked, so I couldn't justify buying a new one. However, I spotted this one on sale last week, and that was it. Decision made. I almose didn't write my gift guide today, because I wanted to go in my kitchen and make somethng with it :-D.
The link above is for Amazon US (where it's also currently on sale). Again, The Red one is not on the Amazon UK site, but there is a white one here: Stand Mixer on Amazon..
That's all guys! Anything pique your interest?
I'm off now to mix cakes, drink coffee and gin whilst snacking on chocolate and cheese ????????