This is my Fish Pie with Cheesy Mash recipe handed down through generations. Nothing beats a creamy fish pie for some hearty comfort food.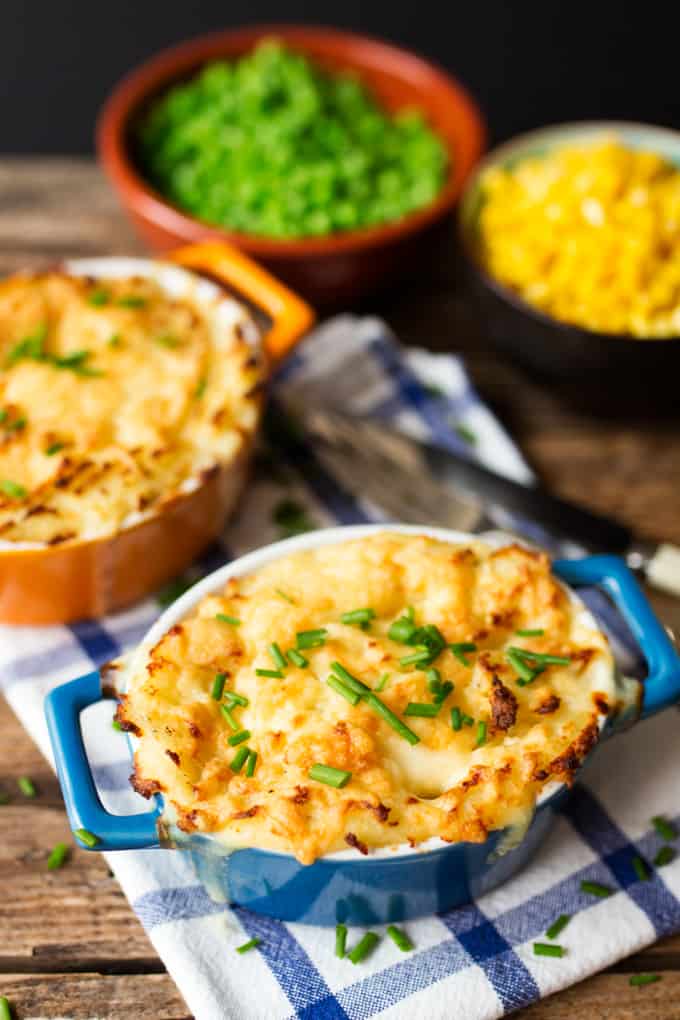 Fish Pie with Cheesy Mash is one of my all time favourite comfort foods.
Although it's usually difficult to get my carnivorous family to skip the meat for a day, I know that my fish pie will always ensure everyone's plates are clear.
Usually I make a large fish pie and plonk it in the middle of the table.  My intention is to let everyone help themselves, and then for me to save leftovers for lunch the next day.
After everyone's gone back for second (and usually third) helpings though, my leftovers tend to consist of one solitary pea – that probably got dropped on the floor by one of the kids.
So we all leave the table, undoing our top buttons with that mashed-potato-overload-comatose feeling.
That's why today's fish pies are served in individual little dishes (with any extra dishes being covered and refrigerated, rather than ending up on the table to be scoffed).
We all have a problem with knowing when we've eaten enough in my family.  The kids are always running around at home or various sports clubs, so their little bodies need plenty of energy.
Chris and I on the other hand, well we do manage the odd gym session/cycling/wii-fit, but certainly not enough to work off what we do eat.
Now that I'm blogging full-time – creating recipes for myself and other publications – I'm struggling to find a balance with working, exercising and eating.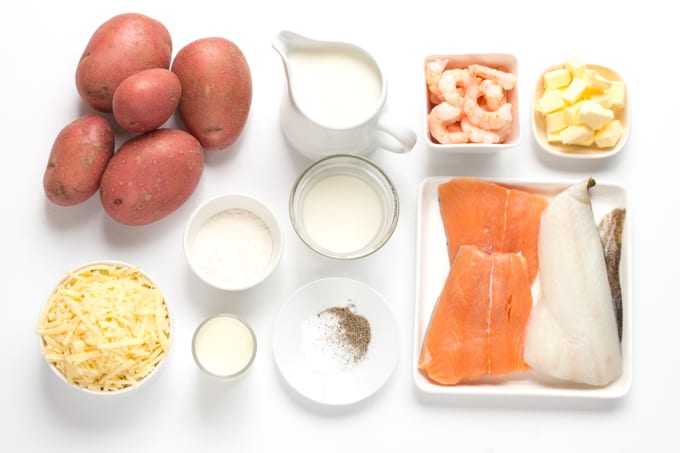 I need to write recipes that I love and can't wait to eat – otherwise what's the point?  I can't photograph anything that I don't want to eat.
So that means not restricting certain food groups, counting every calorie or resorting to short-term fixes things like the ridiculous diet I did a few months back.
I think my biggest problem is that I'm only satisfied when i'm full.  And for me, there's a big difference between no longer feeling hungry, and feeling full.  I guess it's all about being mindful of those signals in your brain.
I've talked about eating mindfully before, and although I've read about it, and feel that eating more mindfully would give me the balance I need, I've never really felt equipped with the tools to carry it out.
Reminding myself that I'm not actually hungry, I just really want something doesn't seem to stop me from going and getting what I want, and then eating it past the point where I'm no longer craving it any more.  I'll just eat it until it's gone instead!!
So after doing a bit of research online, I came across an introductory online workshop to mindful eating.  Bingo!
It's a two hour session run by the Mindfulness Project that teaches the basic principles of mindful eating.  They also occasionally run 8-week mindful eating courses too.
I contacted the Mindfulness Project, and they kindly agreed to let me have a free spot on the course, and in return I'll be letting you guys know about my thoughts on the workshop.
If you're interested in attending this coming workshop too, then check out the website.  I'll be attending the workshop on the 14th July.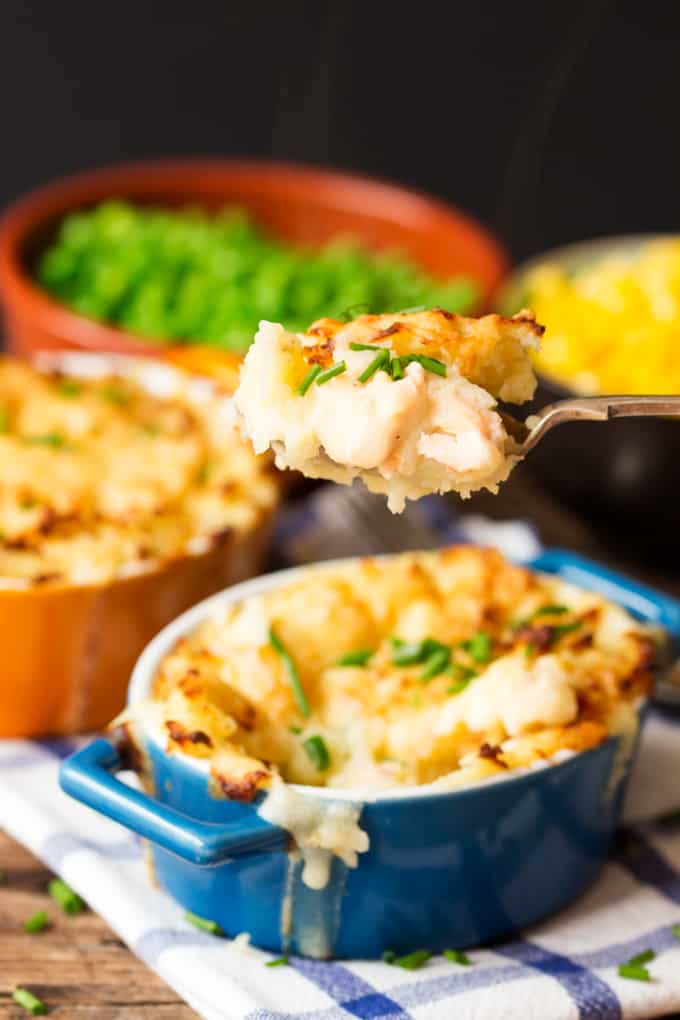 Fingers crossed, it'll help me to make better decisions, like having one of these individual fish pies, rather than a giant helping, followed by anything I can find in my kitchen that resembles chocolate in some way….
The Fish Pie with Cheesy Mash Recipe:
Fish Pie with Cheesy Mash
Nothing beats a creamy fish pie for some hearty comfort food.
Print
Rate
Ingredients
1

kg

floury potatoes - such as maris piper, peeled and chopped into large chunks

3

tbsp

butter

3

tbsp

double

heavy cream)

large pinch of salt and pepper

600

ml

full fat milk

2

boneless salmon fillets

1-2

boneless cod or haddock fillet

15

king prawns

shrimp these can be cooked or raw (make sure they're de-veined)

2

tbsp

plain/all-purpose flour

OR 2 tbsp cornflour mixed with 2 tbsp cold water for gluten free

150

g

grated mature cheddar cheese
To serve:
1

tbsp

chopped chives

Peas

Sweetcorn
Instructions
Preheat the oven to 200c/400f

Place the potatoes into a pan and cover with cold water. Bring to the boil and then simmer for 15 minutes. Drain the potatoes and then mash with a potato masher or ricer. Stir in half of the butter, the cream and a pinch of salt and pepper. Put to one side.

Place the milk in a large saucepan with the salmon fillets and the cod/haddock. Bring to the boil and simmer for 2-3 minutes (if you're using raw prawns, add them in for the last minute of cooking). By this time your fish should be cooked and starting to flake apart.

Place a sieve over a large bowl and pour out the fish/milk mixture. Put the milk to one side. Place the fish onto a plate and flake apart, remove and discard the skin if the fish wasn't skinless.

Divide the flaked fish and prawns (add the cold, cooked prawns at this point if using) between 5 small pie dishes or ramequins. Alternatively you can use one large baking dish.

Give your milk pan a wash and a dry.

Regular Version of the sauce:

Melt the remaining butter in the milk pan, then stir in the flour. Heat through on a medium heat whilst mixing with a wooden spoon. Slowly add in the reserved milk that you cooked the fish in whilst stirring with a balloon whisk (don't whisk it hard though, or you'll end up with a frothy sauce). The sauce will begin to thicken after a few minutes. Turn off the heat and stir through half the cheese and a pinch of black pepper.

Gluten Free version of the sauce:

Pour the reserved milk back into the milk pan and heat until barely simmering - don't let it boil. A bit at a time, stir through the cornflour/water mixture using a balloon whisk. Keep adding the cornflour mix until the milk thickens. Turn off the heat and stir through half the cheese and a pinch of black pepper.

Now it's time to assemble the pies. Pour the sauce over the fish/prawn mixture in each of the dishes. Spoon the mashed potato over the top and then use a fork to spread it out and give it a lined pattern (this give the mash more surface area to crisp up).

Sprinkle over the remaining cheese and place in the oven for 15-20 minutes until the cheese is melted and golden.

Top with chopped chives and serve with peas and sweetcorn.
Recipe Notes
Nutritional Information is per serving.
Nutritional Information
Nutrition Facts
Fish Pie with Cheesy Mash
Amount Per Serving
Calories 570
Calories from Fat 243
% Daily Value*
Total Fat 27g 42%
Cholesterol 184mg 61%
Sodium 533mg 22%
Potassium 1637mg 47%
Total Carbohydrates 33g 11%
Protein 46g 92%
* Percent Daily Values are based on a 2000 calorie diet.