Succulent and juicy baked crispy chicken tenders with vibrant, garlicky chimichurri! A fantastic Summer meal that adults and kids love!
I made these crispy chicken strips with chimichurri as a retaliation against a failed recipe.
Wanna know what that failed recipe was?
Chicken Kiev.
Have you ever tried making Chicken Kiev at home? - You know that retro dish that's back in fashion. Crispy, crunchy chicken with a filling of melted, salty garlic & parsley that pools out deliciously when you cut it open?
If you haven't, then don't bother.
It's impossible!!!
Ok, my two attempts may not qualify as the absolute conclusion in Chicken Kiev making history. I found it impossible though.
My best attempt came with making a little incision in the thickest part of the chicken breast and then slowly making the hole deeper with a little cavity at the end. Then I piped – yes piped – in the cool butter mixture, sealed the little hole with a couple of cocktail sticks, breaded the chicken and refrigerated again to firm up that butter.
I was sure it was going to be a completely success – even if I was feeling slightly nauseous following the serious manhandling of four chicken breasts and getting my hands covered in garlicky grease.
Then I cooked them. I even propped up the chicken, so the little incision was pointing upwards to stop the butter coming out, and STILL I ended up with crispy chicken on a sea of melted garlic butter.
Grrrrrr
I hate it when mass-manufactured products do a better job of it than I do.
I could say 'Don't fear, I will keep trying. I will succeed and show everyone the no-fail way of achieving perfect homemade chicken kievs!'.
But that would be a big fat lie.
So instead, I made these Crispy Chicken Strips with Chimichurri Dip, and right then I knew that I wouldn't be attempting homemade chicken kievs again. Why bother when these bad-boys take less than half the time to prepare and turn out so delicious every time!
The added bonus is you can make extra chimichurri and serve it over everything for the next couple of days (on salads, drizzled on a roast beef sandwich, mixed with pasta or quinoa, even on pizza).
We start by breading strips of chicken breast in seasoned flour, then egg, then my special panko mixture.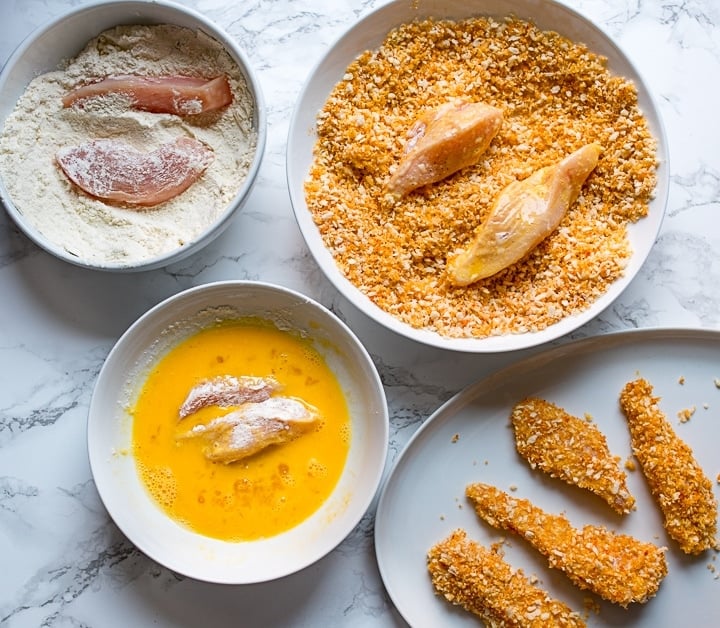 How do I make oven baked breaded chicken extra crispy and golden?
This all comes down to my panko 'formula'. Panko mixed with paprika (for a lovely reddish golden colour) and olive oil.
You might be thinking 'But won't that clump together?'
If you mix it well, it won't clump together. Instead the oil will lightly coat every crumb of panko, which will ensure even cooking and crispiness in the oven.
How long do chicken tenders take to cook?
Cook the chicken tenders at 200C/400F on a baking tray for 15 minutes.
Whilst the chicken is cooking, start on the chimichurri. Finely chop a large bunch of fresh parsley.
Mix olive oil, lemon juice, garlic, salt, pepper, red wine vinegar and dried oregano. Tip: I also like to add a finely chopped chilli for a little kick of heat.
I love those vibrant colours!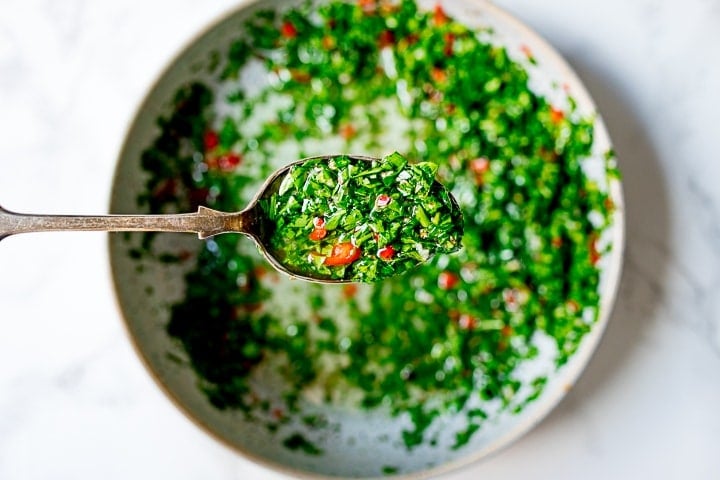 Take the chicken out of the oven and pile it up in a bowl or plate and serve it with your chimichurri.
Tip: I like to serve mine with potato wedges too (you can find my recipe for these in the notes section of the recipe card below.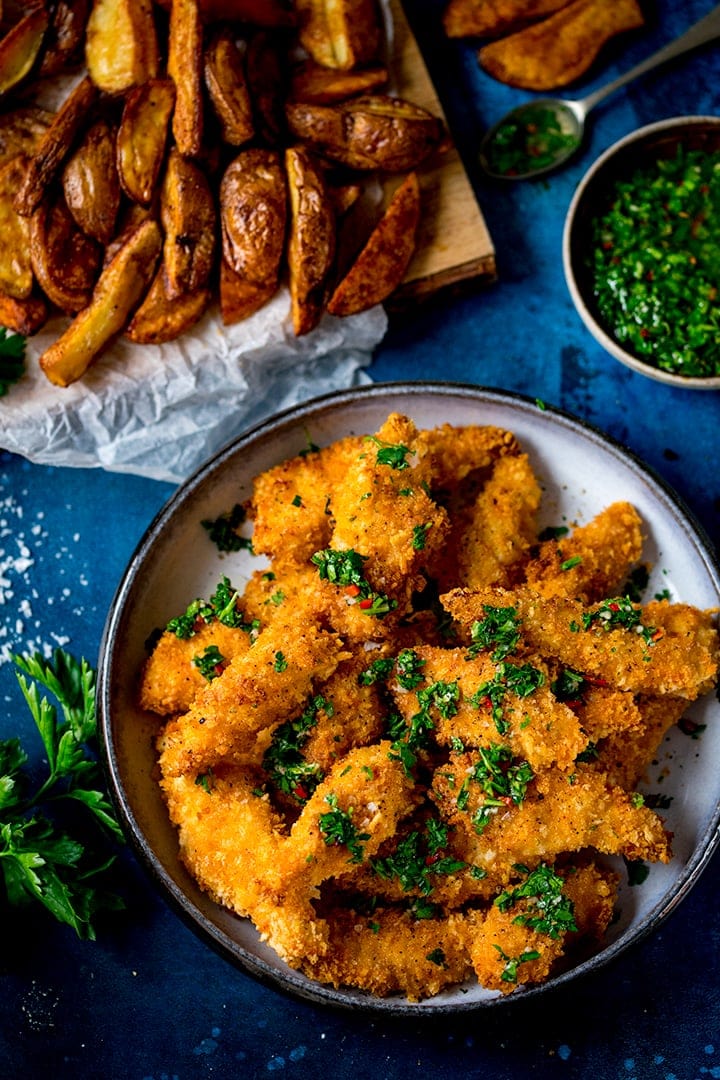 What cut of meat is chicken tenders?
I use chicken breast meat, cut into strips - as you can get larger strips with a more uniform shape than you would from chicken thighs.
You can also use chicken mini fillets (you can buy these at the supermarket) - which are a smaller strip of meat attached to the chicken breast (called the chicken tenderloin). These are often used in when buying good-quality ready-made chicken tenders or chicken goujons. If you use chicken mini fillets/tenderloins, be sure to remove the little strip of tendon if it hasn't been removed already, or this will make your tenders chewy.
What should I serve with chicken tenders?
I've served mine here with potato wedges (see recipes in the notes section of the recipe card below), but some other ideas are:
Can I make Chicken tenders ahead?
Yes! In order to do this:
Flour and bread the chicken tenders, then cover and refrigerate for up to a day.
Cook for 15 minutes at 200C/400F until no longer pink in the middle.
Can I freeze uncooked chicken tenders?
Yes! In order to do this:
Place the made up, uncooked tenders on a tray and freeze (freezing them on a tray first stops them sticking together).
Once frozen, transfer to a freezer bag and place back in the freezer, where they can be stored for up to a month.
To cook from frozen, place in the oven for 20-25 minutes at 200C/400F until no longer pink in the middle.
Other chicken finger food recipes you might like:
Crispy Chicken Tenders with Chimichurri Dip Recipe:
Crispy Chicken Strips with Chimichurri Dip
Succulent and juicy baked crispy chicken strips with vibrant, garlicky chimichurri makes a fantastic Summer meal that adults and kids love!
Ingredients
Chicken Strips:
3

large chicken breasts cut into finger-width strips

2

eggs

-

gently whisked

¾

cup

(90g) plain/all purpose flour

Good pinch of salt and pepper

3

cups

(150g) panko breadcrumbs

1

tsp

paprika

2

tbsp

olive oil

Good pinch of salt and pepper
Chimichurri:
6

tbsp

olive oil

2

cloves

garlic

-

peeled and minced

1

large bunch of flat leaf-parsley

-

chopped very finely

¼

tsp

salt

¼

tsp

pepper

¼

tsp

dried oregano

2

tbsp

lemon juice

1

tsp

red wine vinegar

1

red chilli

-

, finely chopped (I use fresno chillies for medium heat) - discard the seeds for less heat
INSTRUCTIONS
Preheat the oven to 200C/400F

Place the whisked egg in one bowl, the flour, salt and pepper in a second bowl and mix. Place the breadcrumbs, paprika and olive oil in a third bowl and mix well (the oil should coat the breadcrumbs, but the mixture shouldn't stick together).

Dip the chicken strips into the flour, then coat in the egg and finally coat in the breadcrumbs. Place on a couple of baking sheets. Try to ensure they're not too close together, otherwise they won't go crispy.

Place in the oven and cook for 15 minutes until golden brown.

Whilst the chicken is in the oven mix all the chimichurri ingredients together and put to one side.

When the chicken comes out of the oven, cut one of the tenders in half to ensure it's cooked though. It should be hot throughout with no trace of pink.

Serve with the chimichurri.
✎ Notes
Potato Wedges (Serving suggestion for Chicken Tenders):
I find this recipe goes well with potato wedges.
For four people, slice 3 large potatoes into wedges, place on a baking sheet, then drizzle with 2 tbsp oil, ½ a tsp of paprika, ¼ tsp cumin and a good pinch of salt and pepper.
Mix it all up with your hand so the potato wedges are covered in the oil, then cook for 25-30 minutes at 200C/400F, turning over once or twice during cooking. If you get the potato wedges in the oven first, you can be preparing the chicken whilst the potatoes are cooking. Then add the chicken to the oven with the potatoes so they all finish at the same time.
.
Nutritional Information is per serving (not including potato wedges).
Nutrition
Calories:
649
kcal
Carbohydrates:
52
g
Protein:
29
g
Fat:
35
g
Saturated Fat:
5
g
Cholesterol:
136
mg
Sodium:
607
mg
Potassium:
506
mg
Fiber:
3
g
Sugar:
3
g
Vitamin A:
555
IU
Vitamin C:
20.9
mg
Calcium:
105
mg
Iron:
4.3
mg
This recipe was first posted in January 2015. Updated in May 2019 with new photos, step-by-step photos and tips.
Some of the links in this post may be affiliate links – which means if you buy the product I get a small commission (at no extra cost to you). If you do buy, then thank you! That's what helps us to keep Kitchen Sanctuary running. The nutritional information provided is approximate and can vary depending on several factors. For more information please see our Terms & Conditions.