The best crispy roast potatoes - an essential component of any roast dinner! Plus tips on making ahead!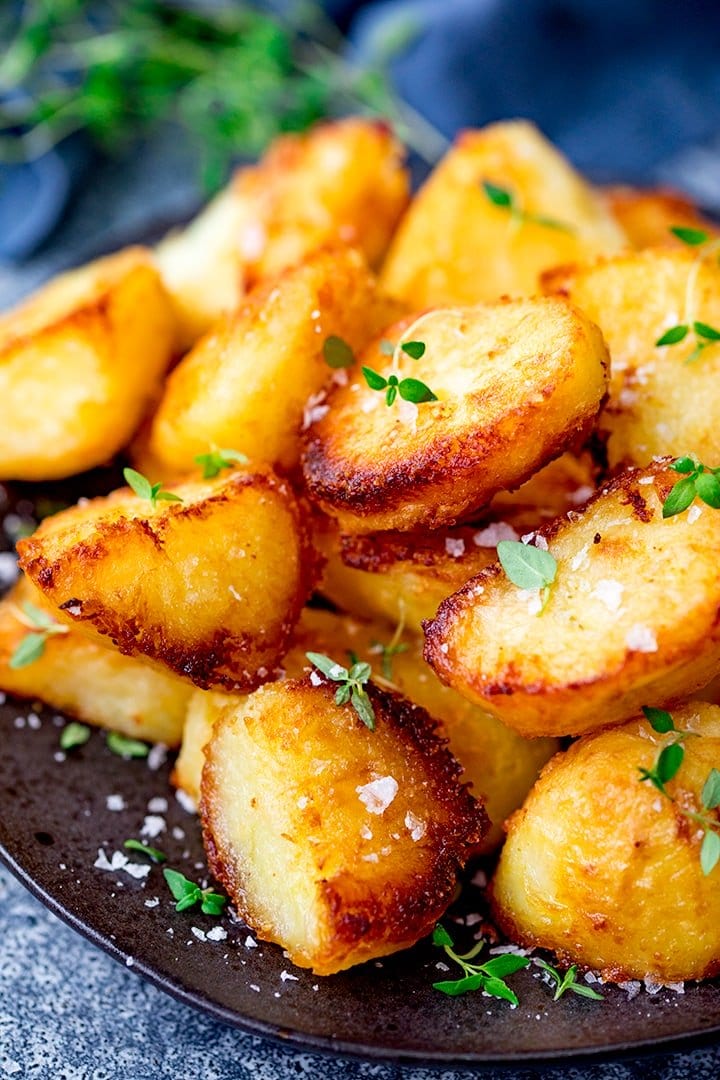 You know when you go to a restaurant for a sunday dinner, how disappointing is it when the roasties aren't crispy! They're just a bit browned and chewy at the edges, instead of having that satisfying crunch. So disappointing!!
Nope, give me homemade roasties any time. I want that crunchy exterior you can only get from fluffing up those edges and letting them bubble away in hot fat, with a fluffy, light interior.
And the crispy bits in the bottom of the roasting pan? I want those too. Eaten with a sprinkling of salt flakes. They're the bonus bits. Salty, crispy morsels, that crunch all the way through when you bite into them.
It's amazing how much a potato cooked in oil with salt can make me salivate at my keyboard.
We starting by boiling the potatoes in plenty of water for about 8-9 minutes. This may sound like a long time to par-boil potatoes, but this is how you get the extra fluffy edges that will crisp up in the oven later.
Drain the potatoes in a colander and give them a really really good shake - so it looks like they're on the verge of falling apart.
Place in shimmeringly hot oil in the oven for 30-35 minutes, turning once or twice until crisp, crunchy and golden.
Sprinkle  with Maldon salt (the BEST for roasties) and a few fresh thyme leaves.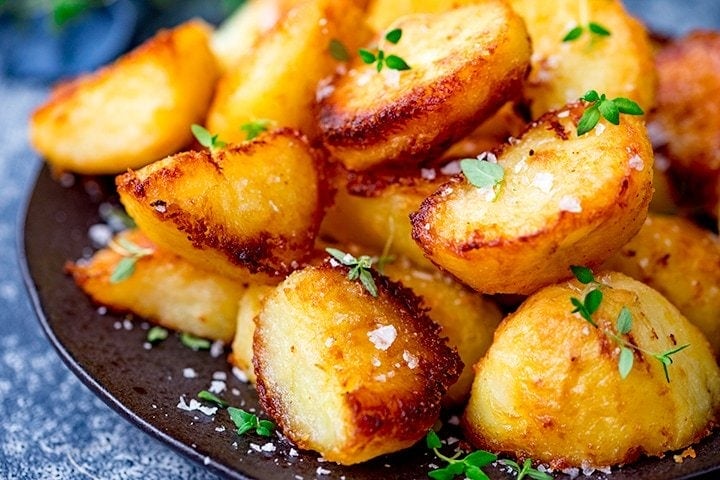 These roast potatoes are part of my 'How to make a Roast Beef Dinner step-by-step timeplan' post.
Check it out for easy to follow instructions on making a mouthwatering roast beef dinner!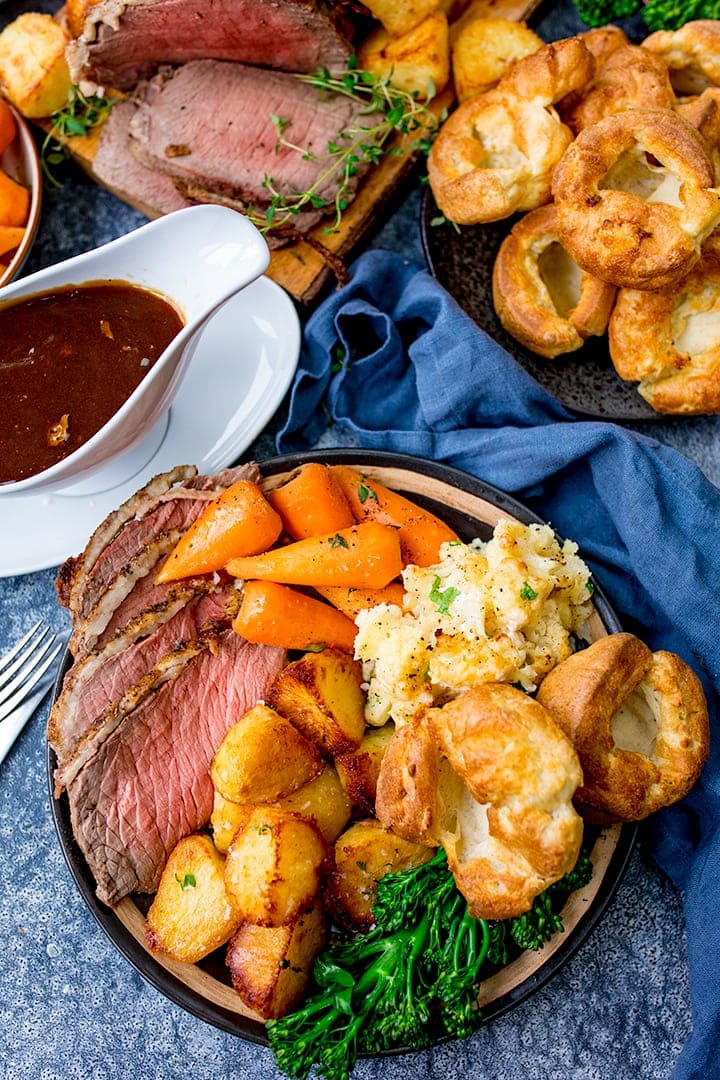 What goes well with Roast Potatoes?
The Crispy Roast Potatoes Recipe: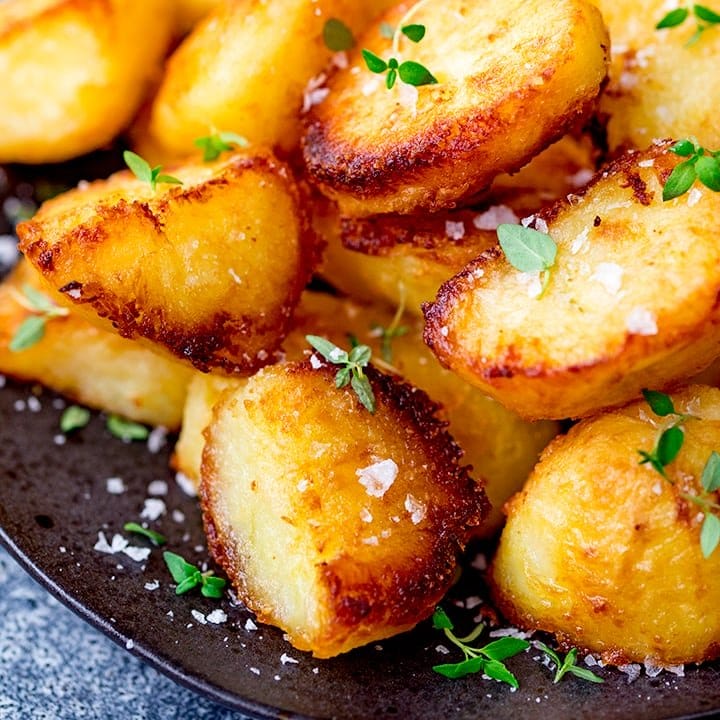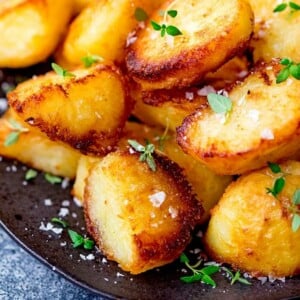 Crispy Roast Potatoes
Perfect roast potatoes -fluffy inside with a crunchy exterior. Part of my step-by-step guide for making a delicious roast beef dinner.

Ingredients
2 ¼

lbs

(1kg) floury potatoes

-

- such as Maris Piper or red-skinned Rooster potatoes

½

cup

(120g) lard or duck fat

-

(use vegetable oil instead for a vegetarian version)

1

tsp

Maldon salt

1

tbsp

fresh thyme leaves
INSTRUCTIONS
Preheat the oven to 220C/425F.

Peel the potatoes and chop into chunky pieces a little bigger than a ping pong ball (approx 2 inches/5cm across).

Place in a pan and cover with cold water. Place on the hob on a high heat and bring to the boil, then turn down the heat and simmer for 8-9 minutes - until softened at the edges.* Tip 1

Meanwhile, place the lard or (goose fat if using) in a large roasting tin and place in the oven to for 10 minutes until shimmering hot.

Drain the potatoes in a colander *Tip 2, and give them a good shake to really roughen up the edges. Don't worry if a few break apart and they look overly fluffy. The more fluffy they are, the better they'll absorb the fat and the crispier they'll be.

Carefully place the potatoes - using tongs - in the baking tin with the hot fat. Turn them over once to coat in the fat and then place in the oven.

Cook for 30-35 minutes, turning once or twice in the last 15 minutes of cooking, until golden brown and crispy.

Remove from the roasting tin and serve topped with a sprinkling of Maldon salt and some fresh thyme leaves.
✎ Notes
*Tip 1
8-9 minutes might seem like a long time to par-boil potatoes, but it's only after this amount of time that the potatoes will be cooked and tender at the edges. This will allow the edges to fluff up a lot when shaken. These fluffy bits at the bits that will go extra crispy in the oven.
*Tip 2
Don't tip away the potato water, save it (and any other vegetable cooking/steaming water) to make your gravy. I add a stock cube or two to the roasting juices from the meat (to make the gravy stretch further), then stir in around 2-3 cups (480-720ml) of vegetable water with a good pinch of salt and pepper, bring to the boil and stir in a little cornflour/cornstarch slurry to thicken. Delicious!
Making mashed potatoes too?
I boil the chopped potatoes for my roasties and mash in the same pan at the same time. Then after 8-9 minutes, I use a slotted spoon to scoop out the potatoes for the roasties.
The potatoes left in the pan are cooked for another 5 minutes or so until tender, before being drained and mashed with butter, cream, salt and pepper. I then cover the mash and put to one side whilst the roasties are in the oven, and reheat the mash in the microwave right before serving.
Make ahead Roast potatoes:
I do this if I want to get ahead or if I'm making a roast dinner for more than 6 people. 
Follow the recipe in the same way (increasing the amount of potatoes and fat to the same ratio if you're cooking for more people), but just roast the potatoes  for 20 minutes - or until lightly golden.
Then remove the potatoes from the fat and place in a bowl to cool. Cover and refrigerate for up to a day. Cool and cover the fat too.
When you're ready to finish the potatoes, heat the fat in the oven at 220C/425F for 10 minutes, then add the potatoes back in and cook for 20-30 minutes, turning once, until golden.
This method works particularly well when you're cooking for more people, as the more potatoes you're roasting in the pan, the longer the potatoes take. So having them par-roasted means they should take no longer than 30 minutes to finish off.
Nutritional information is per serving.
Note - the roast potatoes don't absorb all of the fay, so I've halved the amount of fat for the calculation (this is approximate).
Nutrition
Calories:
279
kcal
Carbohydrates:
31
g
Protein:
6
g
Fat:
15
g
Saturated Fat:
5
g
Cholesterol:
15
mg
Sodium:
606
mg
Potassium:
1043
mg
Fiber:
6
g
Vitamin A:
85
IU
Vitamin C:
31.3
mg
Calcium:
82
mg
Iron:
8.4
mg
Some of the links in this post may be affiliate links – which means if you buy the product I get a small commission (at no extra cost to you). If you do buy, then thank you! That's what helps us to keep Kitchen Sanctuary running. The nutritional information provided is approximate and can vary depending on several factors. For more information please see our Terms & Conditions.