Ham and Cheese Croissant with Honey Mustard Glaze – a simple but delicious Mother's (or Fathers) Day Breakfast.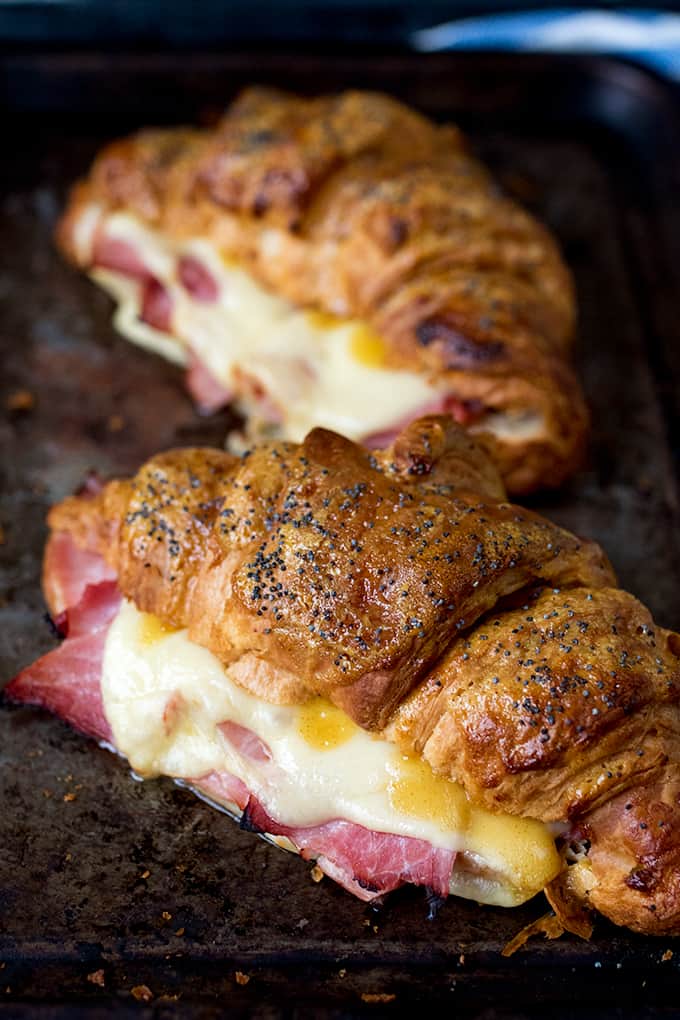 I don't really do breakfast in bed.
It normally takes me a couple of hours in the morning before I'm ready to eat, and then there's the matter of the crumbs.
Nothing worse than climbing into bed after a long day, only to find one of the kids has snuggled in your blankets to eat a packet of crisps or a biscuit without your knowledge.
So whilst I'm completely up for lazing in bed till at least 10am on Sunday, I'll have my breakfast downstairs please Gracey and Lewis. You're welcome to bring me a cup of coffee up though!
Gracey came up with the brilliant idea of covering my cup of coffee in clingfilm to prevent spills/burns on the journey upstairs. Brains put to good use there!!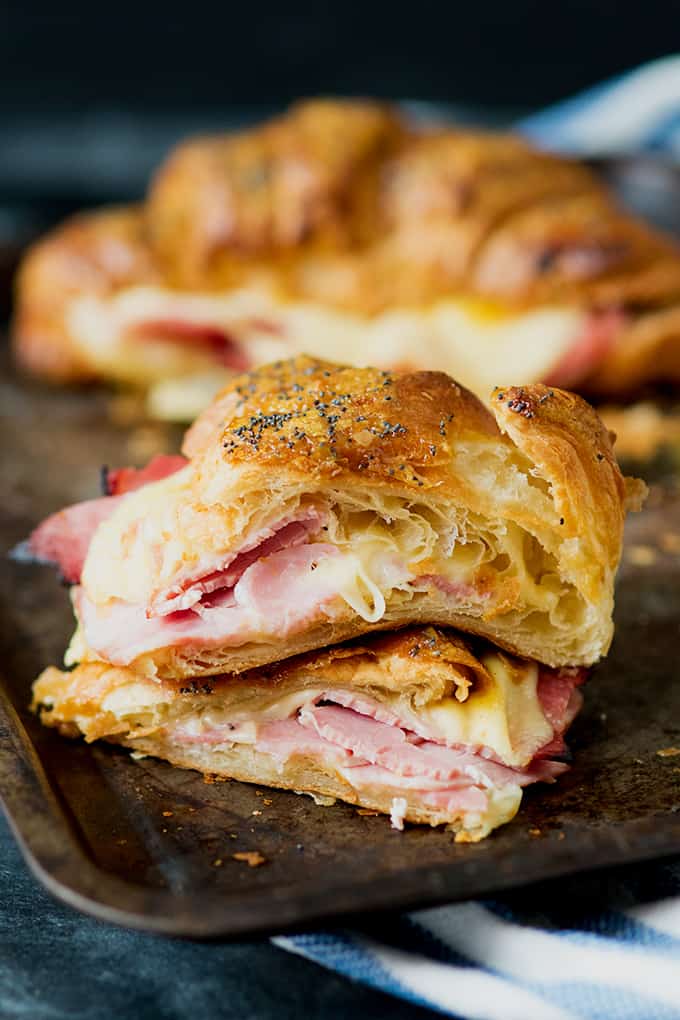 Here is our video!
Before I talk a little more about the recipe, I've just got to whoop and squeak a little bit whilst I tell you about the flying visit Chris and I made to London yesterday.
We were invited down by LKK to watch an early private screening of Kung Fu Panda 3! So like the mean parents we are, we left the kids behind (they got looked after by Grandma and Grandad, so they had a fab time really) and hopped on the train down to London. We got treated to a lovely drinks and nibbles reception, then sat back and enjoyed the film.
We also went out for Chinese afterwards, and had the most amazing fried ribs with salt, pepper, chili and onion crumbs. One of those moments where you bite into it and your eyes kind of roll back into your head.
I HAVE to recreate them!
There also may have been a couple of drinks involved back at the hotel…..
Don't tell Chris I posted this pic of him making us a drink at the honesty bar 🙂
Anyway, back to the recipe. I trialed these on Monday, then made them again as a sponsored video with OvenPride on Wednesday (check it out below – might take a few seconds to load), and then I made one when we got back home today for a late lunch. So it's fair to say I've got a bit of a taste for them!
Ready in less than 10 minutes, they make a great breakfast or lunch. The honey mustard glaze is sticky and delicious, and it goes so well with the melty cheese and salty ham.
Definitely my Mother's day breakfast of choice (hint).
Ham and Cheese Croissant with Honey Mustard Glaze
Ham and Cheese Croissant with Honey Mustard Glaze - a simple but delicious Mother's Day Breakfast
Author:
Nicky @ Kitchensanctuary.com
Ingredients
4 croissants
8 slices good-quality ham
8 slices Leerdammer cheese
2 Tablespoons Dijon Mustard
2 Tablespoon honey
1 Tablespoon brown sugar
1 tsp Poppy seeds
Instructions
Preheat the oven to 190c. Slice the croissants in half lengthways. Place a slice of cheese on the base of the croissants, followed by two slices of ham and another slice of cheese.
Place the croissants on a baking tray.
Mix the mustard, honey and brown sugar together and brush on top of the croissants. Sprinkle with poppy seeds and place in the oven for 6-7 minutes to heat through.
Serve immediately.