A simple appetizer or party snack that always gets polished off in minutes!
When it comes to Christmas, I find I'm always on the lookout for easy snack recipes and party foods.
To be honest, party food always catches my eye anyway – since I've got a bit of a weak spot for mini food like this and this!
When OvenPride asked me to come up with some simple but tasty recipes, these cranberry & brie bites were one of the first on my list.  Expect to see more in the coming months, as I'm now doing a weekly recipe with them – including videos (the video for this one is below).
I've got to admit, I can't bear to watch myself on film. I'm so nervous in front of the camera that I completely forget to smile the whole time and I look like such a doofus!
Hopefully I'll get used to it and start to smile (and actually look at the camera!) when we film the next batch of vids in January.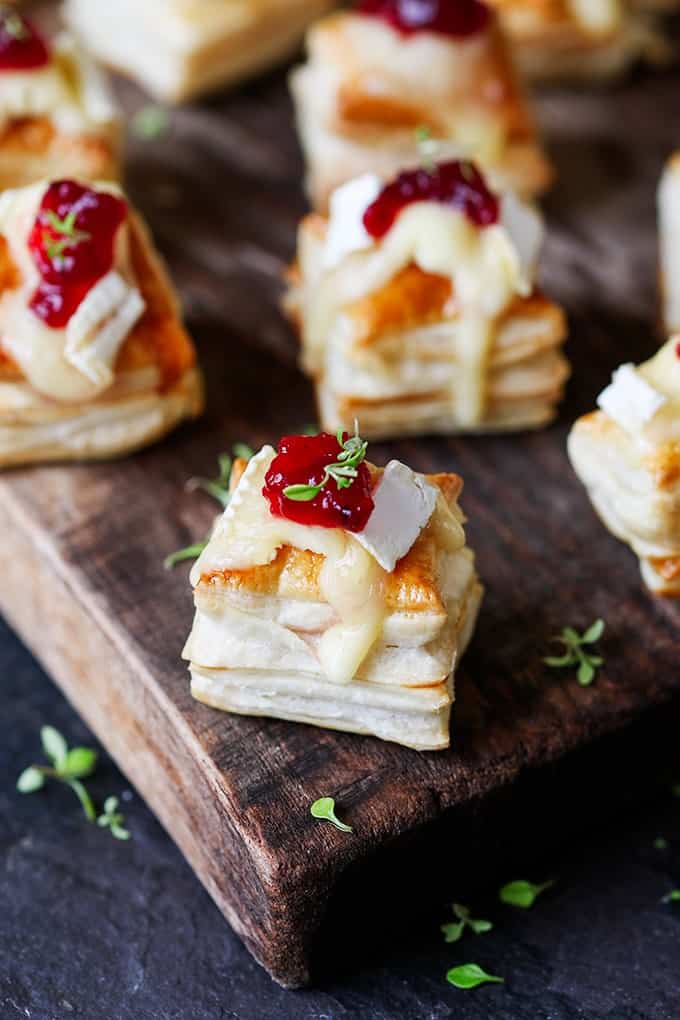 We spent a whole day filming a couple of weeks back, and as soon as these bites came out of the oven we all fell on them like starved animals.
Try to get hold of some fresh thyme if you can – it makes all the difference in making this a very moreish snack.
Here's a quick video of the recipe:
Five ingredients, 10 minutes to prep and 11 minutes in the oven – that's my kind of recipe.
Keep these ingredients on standby and you'll be sure to impress those unexpected guests.
Cranberry & Brie Bites
Cranberry and Brie bites - a simple appetizer or party snack that always gets polished off in minutes!
Author:
Nicky @ Kitchensanctuary.com
Ingredients
400g (14oz) ready rolled Puff Pastry
1 egg, lightly whisked
150g (5.3oz) Brie
6 tbsp Cranberry Sauce
Fresh thyme leaves to decorate
Instructions
Preheat the oven to 200c/400f and line a baking tray with baking parchment or a silicone liner.
Unroll the pastry and brush with egg wash, then cut the pastry into approx 40 small rectangles. Place one rectangle on top of another and repeat with the rest of the pastry, so you have 20 or so 'doubled up' rectangles of pastry. Place on the prepared tray and bake for 10 minutes. Then take out of the oven.
Slice the Brie into small slices and place on top of the pastry puffs. Place back in the oven for 1-2 minutes to melt the brie.
Place the puffs on a plate and top each one with a small blob of cranberry sauce and a few fresh thyme leaves, then serve.